The Perils of Perfection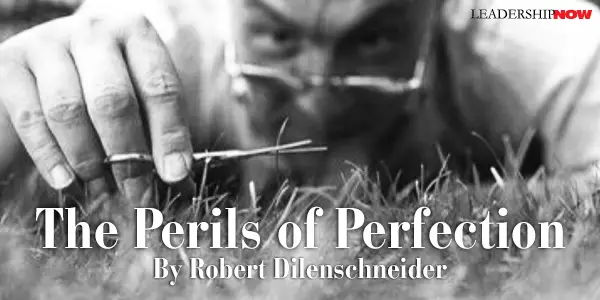 PERFECTIONISM is a dilemma for many powerful people: It is surely a drive that helps them get where they are. But it can also be a straitjacket that hampers what people within an organization are allowed to believe or express. Perfectionism often leads to excessive control or anger. The control reflex shows up in traditional management practices. It can also regulate both the business and social agenda of organizations.
Sometimes the powerful allow their organizations to be bullied by special-interest groups, figuring that it is better to be faultless than realistic. In the long run, the price is both power and credibility. The Economist writes "To ban 'inappropriately directed laughter, as the University of Connecticut did, is no way to change the attitude of the laughter." In an address before the Interagency Committee on Women Law Enforcement, Judge Maryanne Trump Barry said, "I stand second to none in condemning sexual harassment of women . . . but what is happening is that every sexy joke of long ago, every flirtation, is being recalled by some women and revised and re-evaluated as sexual harassment. Many of these accusations are, in anybody's book, frivolous."
Censorship is often a direct attempt to deprive reality of its power, and the powerful often accede to it for well-intentioned reasons. They support the underlying moral intention. This idealized strength of character can lead to weakness in reality. While truth may be subject to interpretation and bent to give certain goals needed emotional intensity, the intentional and obvious distortion of reality is a dangerous game and one that does not play well for long in a knowledge society. Unfortunately, with everyone intent on putting a spin on the facts, censorship of all sorts is enjoying something of a heyday. Former NBC News President Reuven Frank gave a passionate speech about censorship of the media in the Gulf War and the resulting coverage reaching viewers in their homes: "We saw no people. We saw no fighting. We saw 'smart bombs' taking out targets with great efficiency," Frank declares. "[Several months later, we were to] learn that no more than one-fifteenth of the bombs dropped on the Iraqis can be classified as 'smart' bombs; that the most effective planes were not the high-technology, high-priced Stealth fighters but the clumsy, lowly A-10 attack planes, from another generation." Frank pointed to a hero general, "saying over and over, 'I will not have you [the media] on my battlefield. 'My battlefield.' It's a challenging thought."
The alarming rise of self-imposed censorship really reflects a lack of courage on the part of even powerful people who cannot reconcile reality with social justice and the pressure of interest groups. In the Wall Street Journal, Irving Kristol wrote a provocative, actually daring, article titled "America's Multiculturalism Tragedy." He reports, "Recently, a journalist telephoned five leading professors of Egyptology, asking them what they thought about the claim of a black Egyptian provenance for Western civilization [the contention that Western European civilization is really the product of that cultural group]. They all said it is nonsense. At the same time, they all withheld permission for their names to be attached to this risky, 'politically incorrect' position."
Censorship rarely benefits the powerful. If anything, it merely avoids troublesome squabbles and pacifies special-interest groups. But the powerful are the ones who generally court censorship into their own organizations. They do so by having tantrums about being photographed at the wrong angle or wondering why a regulatory investigator brings up "that" topic once again. So the organization reacts by thinking there is a mandate at the highest level to control what is inquisitive, awkward, and external.
The curse of perfectionism often also leads to anger. A renewed interest in confrontation—in mixing it up—is making a comeback in the management repertory, but it is risky business. Business Week has marked the resurrection of "hop-to-it," bad-news memos that more executives are sending when they "feel a need to reach out and shake somebody . . . Most often, the message is grim: Business is bad, and it's your fault." That's empowering the organization with blame and its unhealthy and unsustainable. Disputes are, of course, unavoidable, but great care has to be taken as to where and how they occur. When the powerful confront one another, it is important to remember who's in the audience—a truth every bit as important for prelates as for presidents. A Bruce Posner piece in Inc. in 1991 said, "Disagreements can be good . . . But be conscious of where you have them. Understand that if you and your number-two voice your differences in front of other people, you'll lose control over how things are interpreted once a decision is made. No matter what the issue is, employees are going to look for a loser. "
President Bill Clinton has gotten some notoriety for his temper as an offshoot of his high expectations. Paul Johnson says John Quincy Adams was a "superb hater." He compiled lists of enemies throughout his life, and, at the end, created a list of the thirteen men who had done him the most harm. Revenge is a major motive of demonic power. Anger, when it is momentary and explosive, may just be a part of management style. However, there is little room for sustained bitterness in today's version of power. In fact, bitterness is a sure sign of weakness. J. C. Penney Chairman William Howell treats the matter well when he says, "Is the manager forgiving? He or she simply can't afford to harbor bitterness. It drains the manager's energy and takes focus off things that are important." John Milton's Paradise Lost is the archetypal study of bitter, demonic power. Milton's demons sue for war, "which if not victory is revenge." Yet there is ever a mesmerizing streak of goodness or refinement in the diabolical tyrant. The Hitlers and Husseins are always sharing cream puffs with youngsters or wiping away a child's tear with a tissue. Milton says of his Satan: "His form had not yet lost all her original brightness." It is that truth that makes so much vengeful thinking seem ostensibly righteous and dignified.
Another aspect of perfectionism is the throb of constant, superior performance. Much advice has been given about what constitutes peak performance, but peak performance can degenerate into a counter-productive arrogance of perfectionism in a world that is increasingly driven by long-term goals. Any powerful person is better off targeting really sustainable excellent performance. What diverts the powerful from this latter path is pressure. When power is under pressure and must measure and manage its reactions in the face of threat, there are four particular pitfalls that can be dangerously consuming: 1) not identifying and using all the available resources; 2) failure to deal quickly with negative issues on one's own team; 3) overestimating casually promised support (generally by presumed "allies" in one's extended network); and 4) not recognizing fear and intimidation by opponents for what they are. Under pressure, the classic response of the powerful is to strive harder. The more productive course may be to scan for the classic pitfalls and react methodically. Von Clausewitz wrote, "All war supposes human weakness, and against that it is directed," a statement well worth pondering. And, perfection can be a formidable weakness.
* * *

Robert L. Dilenschneider
is founder of The Dilenschneider Group. Headquartered in New York and Chicago, the Firm provides strategic advice and counsel to Fortune 500 companies and leading families and individuals around the world, with experience in fields ranging from mergers and acquisitions and crisis communications to marketing, government affairs and international media. Mr. Dilenschneider has been called the "Dean of American Public Relations Executives" and is widely published, having authored 14 books, including
Nailing It: How History's Awesome Twentysomethings Got It Together
,
Decisions: Practical Advice from 23 Men and Women Who Shaped the World; A Briefing for Leaders; On Power, The Critical 14 Years of Your Professional Life; 50 Plus!—Critical Career Decisions for the Rest of Your Life
, and
Power and Influence
.
* * *


Follow us on
Instagram
and
Twitter
for additional leadership and personal development ideas.
* * *


Posted by Michael McKinney at 06:07 PM
Permalink | Comments (0) | This post is about