Leading Thoughts for December 2, 2021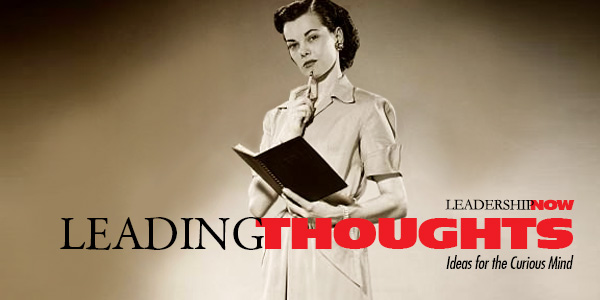 IDEAS shared have the power to expand perspectives, change thinking, and move lives. Here are two ideas for the curious mind to engage with:
I.
Amelia Dunlop on elevating the human experience:
"Elevating the human experience is about acknowledging intrinsic worth as a human and nurturing growth through love. Sometimes the person we need to see most worthy of love is ourselves. Sometimes it is another person. Sometimes it is a group of people who have been unseen."
Source: Elevating the Human Experience: Three Paths to Love and Worth at Work
II.
John Parker Stewart and Daniel J. Stewart on understanding effective leadership is something you learn as you go along:
"One of our wonderful colleagues, John Zorbini, often said that if leadership were a car, you would think it must be a classic red Ferrari with the way we traditionally talk about it—or even the way we all think to ourselves about it. We sometimes put the idea of leadership on a pedestal and speak about it reverently. It's the idea that when you become a leader, you are blessed with instant knowledge, judgment, and prestige.

"But, Zorbini pointed out, if leadership really were a car, it would be a beat-up old truck. It would have dents and dings. Maybe the side panels would be different colors and the interior worn out, but it would have four wheels, move, and get the job done. It's functional, but not glamourous, and the messiness of learning to lead is visible."
Source: LEAD NOW!: A Personal Leadership Coaching Guide for Results-Driven Leaders
* * *
Look for these ideas every Thursday on the Leading Blog. Find more ideas on the LeadingThoughts index.
* * *


Like us on
Instagram
and
Facebook
for additional leadership and personal development ideas.

Posted by Michael McKinney at 06:05 PM
Permalink | Comments (0) | This post is about Leading Thoughts