Leading Thoughts for December 16, 2021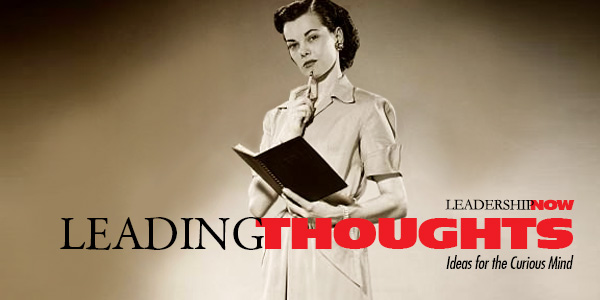 IDEAS shared have the power to expand perspectives, change thinking, and move lives. Here are two ideas for the curious mind to engage with:
I.
Former PepsiCo CEO Indra Nooyi on leadership:
"The fundamental role of a leader is to look for ways to shape the decades ahead, not just react to the present, and to help others accept the discomfort of disruptions to the status quo."
Source: My Life in Full: Work, Family, and Our Future
II.
Gaurav Bhatnagar and Mark Minukas on fear:
"Fear is neither good nor bad. It is merely an emotion you feel when you get an outcome that is different from what you expect. The story we create about fear matters more that the fear itself. We control those stories and can craft either a negative one of doom and gloom or see fear as a cue for growth. When we are able to do the latter, fear becomes a path that leads to a better future."
Source: Unfear: Transform Your Organization to Create Breakthrough Performance and Employee Well-Being
* * *
Look for these ideas every Thursday on the Leading Blog. Find more ideas on the LeadingThoughts index.
* * *


Like us on
Instagram
and
Facebook
for additional leadership and personal development ideas.

Posted by Michael McKinney at 12:34 PM
Permalink | Comments (0) | This post is about Leading Thoughts