Leading Thoughts for December 23, 2021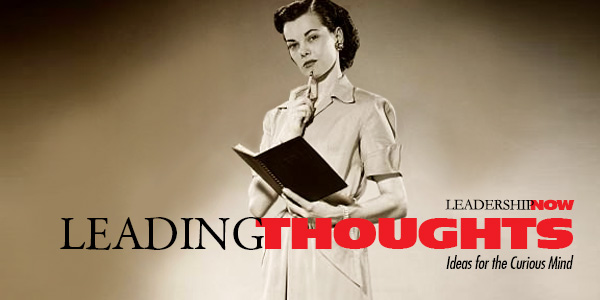 IDEAS shared have the power to expand perspectives, change thinking, and move lives. Here are two ideas for the curious mind to engage with:
I.
Michael Useem on what got you here won't get you there or reinventing yourself as you move forward:
"The factors that led others to select you to manage a team, an office, or even an enterprise, are going to change as markets and methods evolve, pushing you to the edge, and making it vital to continually consider the additional leadership capacities required now. The best capacities of an earlier time thus remain informative but also incomplete for the challenges we face ahead."
Source: The Edge: How Ten CEOs Learned to Lead--And the Lessons for Us All
II.
Alaa Garad and Jeff Gold on how disruption and crisis require strategic learning across the organization:
"Leaders must engage in learning that is continuous and strategic, that has to include a willingness to embrace critical thinking to avoid … functional stupidity whereby leaders can prevent learning and change for the sake of maintaining and sustaining an order that they avoid justifying. In a similar manner, some leaders can be accused of hubris, show contempt for criticism from others and become capable of inflicting damage on their organizations."
Source: The Learning-Driven Business: How to Develop an Organizational Learning Ecosystem
* * *
Look for these ideas every Thursday on the Leading Blog. Find more ideas on the LeadingThoughts index.
* * *


Like us on
Instagram
and
Facebook
for additional leadership and personal development ideas.

Posted by Michael McKinney at 11:37 AM
Permalink | Comments (0) | This post is about Leading Thoughts