Leading Views: The Star Follower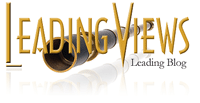 Frequently, when you hear a leader say that they want followers they can trust, what they mean is they want followers who will do what they say and never question them. When they do this, they are letting their insecurities show. It's not a healthy relationship for either the leader or the follower. The leader becomes isolated and the followers do not grow into their own potential.
Robert Kelly, author of
The Power of Followership
, described the leader/follower dynamic in
The Art of Followership
, this way:
Star followers think for themselves, are very active, and have very positive energy. They do not accept the leader's decision without their own independent evaluation of its soundness. If they agree with the leader, they give full support. If they disagree, they challenge the leader, offering constructive alternatives that will help the leader and organization get where they want to go. Some people view these people as really "leaders in disguise," but this is basically because those people have a hard time accepting that followers can display such independence and positive behavior. Star followers are often referred to as "my right-person" or my "go-to person."

The words "leader" and "follower" bring to mind a common script in which the leader is in charge, saying, "You do this, and you do that." Meanwhile, followers are imagined as inferior beings in need of the leader's direction, motivation, and protection. We need to rethink this outdated script.
Posted by Michael McKinney at 01:58 PM
Permalink | Comments (0) | This post is about Followership , Leading Views