Practicing Greatness
: 7 Disciplines of Extraordinary Spiritual Leaders
Reggie McNeal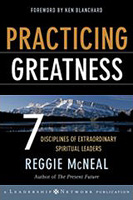 Format:
Hardcover, 192pp.
ISBN:
9780787977535
Publisher:
Jossey-Bass
Pub. Date:
April 21, 2006
Average Customer Review:

For Bulk Orders Call: 626-441-2024

Description and Reviews
From
The Publisher:
Often spiritual leaders do not aspire to greatness for fear of seeming to lack humility. Yet greatness in spiritual leadership is just what we need—in our churches, our businesses, in education, in the social sector, in every sector of society. The question is how do good spiritual leaders become great leaders?
Based on his extensive experience as coach and mentor to many thousands of Christian leaders across a broad spectrum of ministry settings, Reggie McNeal helps spiritual leaders understand that they will self-select into or out of greatness. In this important book, McNeal shows how great spiritual leaders are committed consciously and intentionally to seven spiritual disciplines, habits of heart and mind that shape both their character and competence:
The discipline of self-awareness
—the single most important body of information a leader possesses
The discipline of self-management
—handling difficult emotions, expectations, temptations, mental vibrancy, and physical well-being
The discipline of self-development
—a life-long commitment to learning and growing and building on one's strengths
The discipline of mission
—enjoying the permissions of maintaining the sense of God's purpose for your life and leadership
The discipline of decision-making
—knowing the elements of good decisions and learning from failure
The discipline of belonging
—the determination to nurture relationships and to live in community with others, including family, followers, mentors,and friends
The discipline of aloneness
—the intentional practice of soul-making solitude and contemplation
Practicing Greatness
goes beyond mere clichés and inspirational thoughts to be a hard-hitting resource for leaders who aspire to go from being just good enough to being a great leader who blesses others.

Reviews
"Practicing Greatness is a hard-hitting leadership book, not just a collection of inspirational thoughts."
—from the Foreword by Ken Blanchard, author of The One-Minute Manager and Lead Like Jesus: Lessons from the Greatest Leadership Role Model of All Time
"The depth and breadth of wisdom in this book is just short of unbelievable. Good leaders aspiring to be great leaders will do well to read this book and allow it to probe and shape their lives."
—Bill Easum, Easum, Bandy & Associates
"I have always been challenged by Reggie McNeal's 'right on' insights. And this book is packed with 'right on' insights for any leader wanting to move from good to great."
—Robert Lewis, pastor and men's fraternity founder, Fellowship Bible Church, Little Rock, Arkansas; coauthor of Culture Shift: Transforming Your Church from the Inside Out
"Someone once taught me a powerful lesson: 'If you are without discipline, you are without power.' In this revitalizing work, Reggie has tapped into a power source for all leaders??—disciplines. Grab hold of this book and begin a newly charged life today!"
—Wayne Cordeiro, New Hope Christian Fellowship O'ahu, Honolulu, Hawaii; coauthor of Culture Shift: Transforming Your Church from the Inside Out
"We owe Greatness to God. Reggie McNeal challenges us to this standard and gives us some practical 'how-tos' in this clear and compelling new book. I recommend this book for all who aspire to a meaningful Halftime and Life II."
—Bob Buford, author of Halftime and Finishing Well; founder and chairman, Leadership Network

About the Author
Reggie McNeal
is the director of leadership development for the South Carolina Baptist Convention. Through his various leadership roles, from local congregational settings to denominational positions to seminary classrooms to coach and consultant for thousands of spiritual leaders, he has been devoted to helping leaders understand and practice true leadership greatness. McNeal is the author of
Revolution in Leadership: Training Apostles for Tomorrow's Church
(Abingdon Press), along with
A Work of Heart: Understanding How God Shapes Spiritual Leaders
and the best-selling
The Present Future: Six Tough Questions for the Church
, both from Jossey-Bass.

Table of Contents
| | | |
| --- | --- | --- |
| | About Leadership Network | |
| | Foreword by Ken Blanchard | |
| | Acknowledgments | |
| | | |
| | Introduction Needed: Great Spiritual Leaders | |
| 1 | The Discipline of Self-Awareness | |
| 2 | The Discipline of Self-Management | |
| 3 | The Discipline of Self-Development | |
| 4 | The Discipline of Mission | |
| 5 | The Discipline of Decision Making | |
| 6 | The Discipline of Belonging | |
| 7 | The Discipline of Aloneness | |
| | Conclusion Choosing Greatness | |
| | | |
| | Notes | |
| | About the Author | |
| | Index | |

Find Items On Similar Subjects

The Leadership Jump
: Building Partnerships Between Existing and Emerging Christian Leaders