We Are Educating People Out of Their Creative Capacities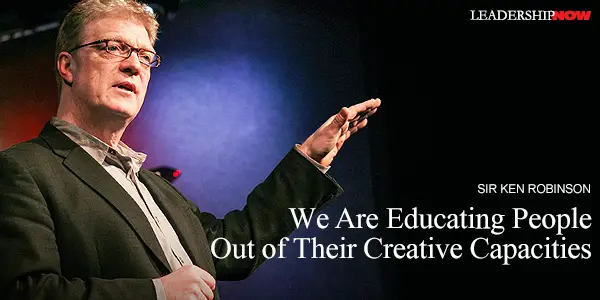 HERE is a presentation worth watching from the TED 2006 Conference. Sir Ken Robinson is author of Out of Our Minds: Learning to be Creative, and a leading expert on innovation and human resources. In this talk, he makes an entertaining (and profoundly moving) case for creating an education system that nurtures creativity, rather than undermining it.
We don't know what the future is going to look like, but we do know that it is moving away from the right brain dominated tasks brought on by the industrial revolution. (See Dank Pink's, A Whole New Mind.) Robinson observes that our educational system is predicated on the idea of academic ability to meet the needs of industrialism. Yet it is this educational system is meant to take us into this unknown future. To meet this future we need to begin to educate the whole being.
Here are some thoughts from his presentation:
Creativity is as important as literacy and we should treat it with the same status. We don't grow into creativity, we grow out of it; or rather we get educated out of it."

"I define creativity as the process of having original ideas that have value more often than not comes about from through the interaction of different disciplinary ways of seeing things."
His comments on making mistakes are important because I believe that we really only pay lip service to this in our personal lives, our families and organizations. Robinson states, "If you're not prepared to be wrong you'll never come up with anything original. By the time we become adults we are afraid to be wrong. We run our company this way. We stigmatize mistakes and as a result, we are educating people out of their creative capacities." How true. But I think it comes second nature to us to respond to mistakes in this way. It is something that we really need to be conscious of.
Beyond personal growth, the issues he raises in his presentation have far-reaching implications for developing and more importantly sustaining a learning organization. Einstein wrote, "Anyone who has never made a mistake has never tried anything new." We lose the true value of our people by stigmatizing mistakes. Not all mistakes are acceptable of course, but a genuine mistake that people are taking responsibility for and learning from should be rewarded and encouraged. John Wooden said, "If you're not making mistakes, then you're not doing anything. I'm positive that a doer makes mistakes." By treating mistakes and failures as a positive learning experience, people get better and make fewer and fewer mistakes.
* * *


Like us on
Instagram
and
Facebook
for additional leadership and personal development ideas.
Posted by Michael McKinney at 09:43 AM
Permalink | Comments (0) | This post is about Creativity & Innovation , Learning