Jack Welch On Leadership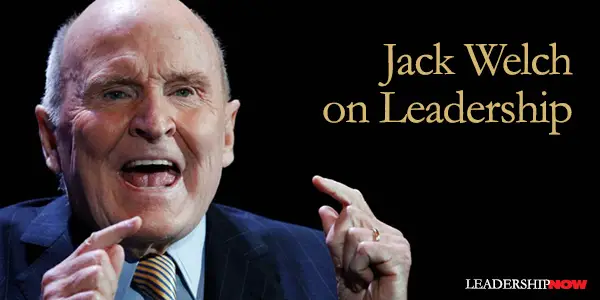 JACK WELCH revealed some lessons on leadership in a keynote address to the executives at the FranklinCovey Symposium in Dallas. Here is a recap as presented by Training Magazine:
"Great leadership development is the heart and soul of every company. Now more than ever, companies shouldn't be afraid to take risks by promoting tomorrow's leaders into these roles today. It's wonderful to have an organization that is dynamic and changing and getting fresh blood into management positions. Fresh eyes sometimes see fresh opportunities. Will they be ready? Maybe they won't all be trained perfectly, but they will be able to grow into their job if you give them the right support systems. When I left GE, my successor was 46 years old, and his direct reports averaged 38 years old. That's great stuff.

One thing that is key to remember is that leadership is inclusive, not exclusive. When you have a problem, I think you need to engage as many people as you possibly can into solving the problem.

The idea that there's just one right view is absolutely crazy. When you've got a crisis, you've got to reach every level of your organization and find every place where knowledge may live. It's part of what I called a "role-model atmosphere" at GE.

Leadership is not about dictating, it's about empowering employees so that they recognize their ability to take action. And highlight it when they do. When somebody had a great idea at GE, we'd fly that person in to showcase the idea. You should always be showcasing your people's great ideas. That's part of a role model atmosphere and it works. People need to feel that their contributions are important. Always give them voice and dignity. That's what leaders do. And that's how leaders build leaders. But implementing that and making that real is a lot harder than just saying it.
* * *


Like us on
Instagram
and
Facebook
for additional leadership and personal development ideas.
* * *


Posted by Michael McKinney at 10:42 PM
Permalink | Comments (0) | This post is about Leadership