Leading with Gratitude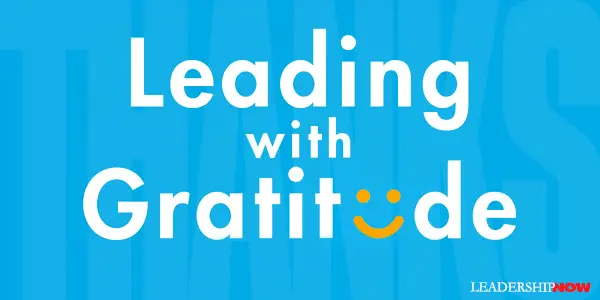 GRATITUDE increases our leadership effectiveness as drives out fear and blame, gives meaning and confidence to all, and boosts productivity. We all know this, yet still, we don't place as much emphasis on gratitude as we should. We withhold gratitude when we should be expressing it not just for their good but for our own good as well.
Gratitude is more than saying thank you. It goes beyond nice. It is an approach to life.
Adrian Gostick and Chester Elton say gratitude is "one of the most misunderstood and misapplied skills in business." When it is genuine and specific, it is the "easiest, fastest, and cheapest way that managers can boost performance and employee engagement." In Leading with Gratitude, the authors uncover what holds us back from showing gratitude and what we can do about it.
They begin by taking a look at the seven most common reasons we avoid showing gratitude. They call them the Ingratutide Myths: fear is the best motivator, people want way too much praise these days, there's just no time, I'm not wired to feel it, I save my praise for those who deserve it, it's all about the benjamins, and they'll think I'm bogus. They debunk each of these with stories and studies.
I'm Not Wired That Way
We've all probably had a few of these myths run through our minds from time to time, but I want to call out one of the myths: I'm not wired to feel it. While we are born with predispositions—warmer or colder, more sensitive to positive or negative circumstances—they are not life sentences. Gratitude, like other character traits, is a matter of choice. We should have developed it from example in our youth, but as we know, that doesn't always happen. But it is learned. Through practice, we can wire our brains to express gratitude. It becomes a matter of choosing to move beyond our comfortable predisposition towards an approach to life that better serves us as leaders.
Seeing and Expressing
The last two sections of the book focus on four ways of seeing and four ways of expressing gratitude.
Seeing is about awareness. The best leaders know how people contribute and actively look for reasons to express gratitude.
It is about seeing good things happening and then expressing heartfelt appreciation for the right behaviors. On the flip side, managers who lack gratitude suffer, first and foremost, from a problem of cognition—a failure to perceive how hard their people are trying to do good work—and, if they're encountering problems, what they are. These ungrateful leaders suffer from information deficit.
Other practices for seeing include assuming positive intent (seeing people as trying to do well), walking in their shoes (understanding the challenges your people are experiencing), and looking for small wins (motivates us for the next step).
Expressing, of course, is how to express gratitude. We all need regular feedback. "Timeliness of gratitude communicates that a leader is paying attention, and that giving credit when it's due is a priority in his busy world."
Like ripe bananas, gratitude does not keep. The closer to an achievement a leader expresses her appreciation, the better.
When it comes to expressing, tailor it to the individual. People have different motivators. Giving gratitude helps reinforce the organization's core values. "Gratitude offers an opportunity to put the flesh of specificity on the bones of core values."
Encourage peer-to-peer gratitude. It demonstrates support and builds bonds. "When employees are grateful to each other, they affirm positive concepts typically values in their colleagues, such as trustworthiness, dependability, and talent."
Living Gratefully
When we begin to practice gratitude, the goal is to live gratefully—to make it part of who we are. Gratitude then extends to everyone in our lives. It is not just something we do at work to increase productivity, but we take it home and express it to those people that mean the most to us.
If we practice gratitude with all the people in our lives, we'll find that they respond just as well as our employees. When we give our family, friends, and all those we encounter a lift, we also give ourselves more moments of joy. One of the great ironies of personal relationships is that we so often take those who mean the most to us for granted.
Adrian Gostick and Chester Elton share example after example of the often creative ways that leaders and organizations that are doing it right show gratitude. We can all begin to live life more gratefully and receive positive results that exceed our efforts.
* * *


Like us on
Instagram
and
Facebook
for additional leadership and personal development ideas.
* * *


Posted by Michael McKinney at 11:44 PM
Permalink | Comments (0) | This post is about Management