Leading Thoughts for March 19, 2020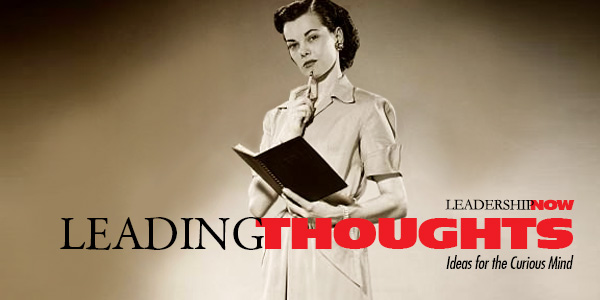 IDEAS shared have the power to expand perspectives, change thinking, and move lives. Here are two ideas for the curious mind to engage with:
I.
Erik Larson commenting on Winston Churchill's belief that leaders should make people feel "loftier, stronger, and, above all, more courageous:"
"Recognizing that confidence and fearlessness were attitudes that could be adopted and taught by example, Churchill issued a directive to all ministers to put on a strong positive front. 'In these dark days the Prime minister would be grateful if all his colleagues in the Government, as well as high officials, would maintain a high moral in their circles; not minimizing the gravity of events, but showing confidence in our ability and inflexible resolve to continue the war till we have broken the will of the enemy to bring all Europe under his domination.'"
Source: The Splendid and the Vile
II.
Jared Diamond on dealing with a crisis:
"Typically when one is first plunged into a state of crisis, one feels overwhelmed by the sense that everything in one's life has gone wrong. As long as one remains thus paralyzed, it's difficult to make progress dealing with one thing at a time. Hence a therapist's immediate goal in the first session—or else the first step if one is dealing with an acknowledgment crisis by oneself or with the help of friends—is to overcome that paralysis by means of what is termed 'building a fence.' That means identifying the specific things that really have gone wrong during the crisis, so that one can say, 'Here, inside the fence, are the particular problems in my life, but everything else outside the fence is normal and OK.' Often, a person in crisis feels relieved as soon as he or she starts to formulate the problem and to build a fence around it. The therapist can then help the client to explore alternative ways of coping with the specific problem inside the fence. The client thereby embarks on a process of selective change, which is possible, rather then remaining paralyzed by the seeming necessity of total change, which would be impossible."
Source: Upheaval: Turning Points for Nations in Crisis
* * *
Look for these ideas every Thursday on the Leading Blog. Find more ideas on the LeadingThoughts index.
* * *


Like us on
Instagram
and
Facebook
for additional leadership and personal development ideas.
Posted by Michael McKinney at 09:49 AM
Permalink | Comments (0) | This post is about Leading Thoughts