Gratitude is Good for You Too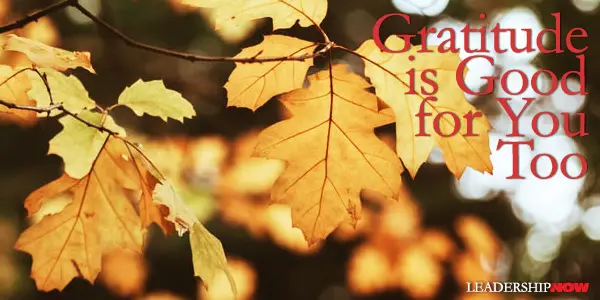 WE KNOW GRATITUDE makes relationships thrive and makes trust possible. Gratitude encourages, clarifies, motivates, includes, and unifies.
When we show gratitude, people feel valued, they know what's important, they want to do more, and they feel part of something bigger than themselves.
But gratitude is good for you too.
Gratitude puts you in the right mindset to lead. Gratitude and humility are interconnected. They reinforce each other. Gratitude says, "I didn't do this alone." French philosopher Andre Comte-Sponville wrote, The narcissistic leader or "the egoist is ungrateful because he doesn't like to acknowledge his debt to others and gratitude is this acknowledgement." A lack of gratitude is at the core of narcissism. We alone are not responsible for who we are and what we do and that is the essence of leadership. We are never truly self-sufficient.
In a practical way, gratitude provides guardrails in our life. Gratitude helps us to protect from ourselves. It is amazing how much gratitude plays into avoiding poor behavior and wrong thinking. Gratitude sets a boundary on our thoughts by making us mindful of others. It helps us to avoid going where we should not go because we are more self-aware.
Gratitude requires that we slow down and reflect. Gratitude is the basis of emotional intelligence. It puts other people first. It says you know and you care. While empathy has been found to be essential to leadership, empathy is not empathy if it is silent. It must be expressed.
Gratefulness helps to curb unproductive emotions such as frustration, resentment, and revenge. Studies have shown that it is an antidote to depression. It has the power to heal and move us forward.
It improves relationships and is a remedy to envy and greed. Instead of trying to strive with others we are thankful for what they do. It eliminates a leader's tendency towards entitlement. Grateful people find more meaning in life and feel more connected to others.
In these changing and uncertain times, gratitude is a leaders ally. Gratitude looks at the long term and doesn't focus on the present situation. Life is a continuum. Gratitude allows a leader to appreciate where they are and the resources they have at their disposal to face what life throws at them. A habit of gratitude gives us perspective. It doesn't blind us to the negative but it facilitates a solution.
Gratitude can't just be something we do is has to be who we are as a leader. More than a behavior it must come from the heart. It must be the mindset we lead from, manage from, and make decisions from. Gratefulness is grounded in reality because ultimately we must realize that everything good in our life is a gift.
Leadership begins and ends with gratefulness.
* * *


Like us on
Instagram
and
Facebook
for additional leadership and personal development ideas.

Posted by Michael McKinney at 11:34 AM
Permalink | Comments (0) | This post is about Leadership Development , Personal Development