Unconditional Gratitude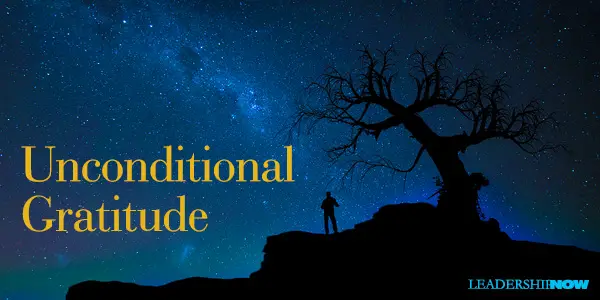 W
E ARE NOT AUTONOMOUS.
Autonomy is simply looking at life as though we are a world unto ourselves. As though we did it all by ourselves. It's pride. But the reality is, we are connected.
The opposite of autonomy is gratitude. Gratitude isn't dead, but it is in trouble. Society does not see gratitude as a moral or a character issue, which it certainly is. Although it is has been scientifically proven to be a key to happiness, it is something much more profound than that.
Most of our problems—especially relational issues—can be traced back to a lack of gratitude. In dealing with any of our problems, you will find that there is a lack of gratitude over something or someone.
The Roman statesman Cicero wrote, "Gratitude is not only the greatest of virtues, but the parent of all others."
Even Adam Smith, the economist that believed that the market should be driven by self-interest, expressed in The Theory of Moral Sentiments, his belief that feelings of gratitude are crucial for maintaining a society that is based on goodwill. He considered gratitude to be a crucial source of social civility and stability.
Like all character traits, gratitude is expressed in action. It is returning a favor, giving thanks, showing appreciation or simply giving someone your time and attention. Cicero said, "There is no duty more indispensable than that of returning a kindness."
Ingratitude has been called the "essence of vileness" and "the most horrible and unnatural crime that a person is capable of committing." It is a moral issue that impacts our lives and thinking in significant ways. When we are full of pride, angry, frustrated, depressed, defensive, stressed, irritated or anxious, we would do well take a time-out and uncover our ungratefulness.
Gratitude is most often expressed by simply thanking others, but it is more than just giving thanks. It is a way of looking at life; a way of seeing other people. It is more than a strategy or a technique to influence others. It is a way of being.
We shouldn't think of gratitude as something that happens at certain moments throughout our life. Real gratitude doesn't appear at moments in our life, but it is a disposition we have towards life. Real gratitude is unconditional.
Gratitude endures through everything. It is not a fleeting response to our circumstances. You may remember Blanch Dubois's classic statement in Tennessee Williams play A Streetcar Named Desire, where she said that she always depended on "the kindness of strangers"—people she didn't know and may never see again. It was not about individual episodes in her life, but rather it speaks to a perspective on life. It's not just gratefulness to a person but a gratefulness for your existence and how far you've come. It's being aware of your whole life. An awareness of how much we owe to others throughout our life.
Gratitude creates perspective. Gratitude says, "I'm part of something bigger. I am not alone." It connects us with each other. It strengthens our relationships while moderating our behavior.
The autonomous person rejects gratitude precisely because they must recognize and submit to others in this way. They think, "If I can find something wrong with that person I don't have to recognize their kindness. I can invalidate them." The autonomous don't want to recognize others so that they can justify treating them any way they want. This kind of thinking is not based in reality. Eventually, it leads to self-destruction.
Gratefulness changes us. It strips away our indifference. It puts us in touch with reality because it acknowledges our connections—our networked existence.
It is this gratitude effect—the way it grounds us in reality—that benefits us and those around us the most. Gratitude moderates and even inhibits toxic emotions but more than that, it gives birth to positive emotions. It's why Cicero said that it was the parent of all of the other virtues. Gratitude gives birth to and nurtures patience, a sense of humor, curiosity, creativity, insight, kindness, respect, courage, generosity, empathy, and positivity to name a few.
Gratitude creates the space for positive emotions to grow and flourish. Anger, irritation, defensiveness, worry, and impatience, are choices. These emotions don't happen to us; we choose them. Have you ever been in the middle of an angry rant when the phone rings? When you answer the call you are all "sugar and spice and everything nice." When it's over you go right back into your angry rant. It's a choice. The point is, we can choose gratitude to drive these toxic emotions out of our lives. Negative emotions cannot coexist with gratitude.
Gratitude has the power to pull teams together. When things don't go our way, or when people don't do what we think they should, we tend to pull away—withdraw. We want to take our ball and go home—disengage. If we can develop a mindset of gratitude, that will not happen. We will stay engaged. We will work together.
Gratitude has the power to slow us down and reflect and refocus our attention on what matters. Sometimes we have to step back to see our life in perspective; to be able to connect the dots. I like the way American writer Ursula Le Guin put it: "If you can see a thing whole—it seems that it's always beautiful. Planets, lives. …But close up a world's all dirt and rocks. And day to day, life's a hard job, you get tired, you lose the pattern."
It's easy for any of us to lose the pattern, to lose the narrative, to forget what we are doing this all for if we never step back and see the bigger picture with gratitude.
How do we get to the point where gratitude defines who we are?

Humility, of course, makes all of this work. Humility is the ability to silence the self. Humility is valuing other people; appreciating them. Humility allows us to be open to recognizing the good in all of our circumstances.
Gratitude is humility in action.
Not surprisingly, the mechanism behind gratitude is remembering. Developing a mindset of gratitude is about remembering.
We don't come by gratitude naturally. It's not common sense. It's something we have to cultivate. And remembering takes effort.
Of course, we can find the differences; we can find the negative. We can dwell on it. It's the core trait of a toxic individual. But we can combat that by seeking out anything that is excellent or praiseworthy—seeking out the good in any situation. Drawing upon positive memories gives us hope for the future. Unconditional gratitude heals and creates understanding and builds relationships.
Gratitude acknowledges that we are connected. Allow unconditional gratitude to define you as a leader.
* * *


Like us on
Instagram
and
Facebook
for additional leadership and personal development ideas.

Posted by Michael McKinney at 07:40 AM
Permalink | Comments (0) | This post is about Personal Development