How to Find Your Edge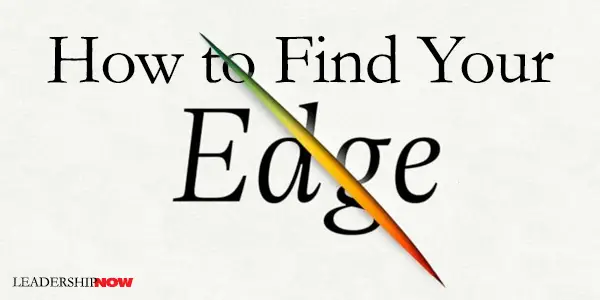 WE'VE HEARD that hard work is the secret to success. But all too often we see that hard work is not enough. What then?
We need an edge.
Laura Huang explains just how to gain that advantage in her insightful and encouraging book, Edge: Turning Adversity into Advantage. "Certain people seem to be endowed with a unique advantage in which they can execute faster and better and get the things they need, because they are positioned in such a way that others help them move forward. You can create your own edge and open doors—wide-open doors—for yourself."
Having an edge makes hard work go further. Those that have an edge, Enrich, Delight, and Guide to make their Effort go further.
We must put in the work, but "when you create an edge, you create tailwinds that help you capitalize on your hard work more effectively." We all face biases, prejudice, and harmful (to us) perceptions and attributions. But these can be the key to overcoming the adversity and roadblocks we face. "For most of you," she writes, "it will be about positioning yourselves as an antidote to stereotypes, which will allow you to guide the perceptions of others, delight others, and ultimately will result in others seeing the unique value you can provide."
Enrich
Huang begins with Enrich because it is the foundation of our edge. To do this, we begin by finding our "basic goods." Those basic things that make you, you. "Creating an edge starts with pinpointing your basic goods and defining your circle of competence, and operating inside that perimeter." It's how you enrich.
Your history and your story are part of your basic goods. Don't underestimate where you've been planted—grow there.
Our constraints provide us with a unique way to enrich when we own them—when we use them to see differently. "Don't let the constraints that others create prevent you from identifying the problem for you, and hence the solution for you."
Delight
Getting the door to enrich is made possible by our ability to Delight. Delight opens the door, so we can enrich. It's how we deliver our value.
What is delight? It is the unexpected. "When we delight, we violate perceptions, but in a benign way. Delight unsettles and challenges beliefs about your context, grabbing the attention of gatekeepers and making way for you to show how you enrich."
There is value in planning to delight, but it is important that you stay flexible and be looking for opportunities to delight. "Authentically delighting in situ requires you to be constantly fine-tuning, as well as constantly attuned to how you can shape situations to present the opportunity for your talents and core competencies to become apparent."
Delighting requires you to have an opinion or point of view—being authentic while having the audacity, or the stomach, you might say, to take a bold, surprising stance.

We all have the capacity to enrich. But when you are able to also delight, that is where the real magic happens. That is how you allow them to let you in, and how you build your edge.
(As an associate professor at the Harvard Business School, Huang offers a great section on the advice she gives the students and entrepreneurs she coaches on the high-concept pitch, the two-sentence pitch, and the extended pitch. She states that "no pitch should be longer than one minute—after that, you should be in full conversation mode.")
Guide
Once in, we Guide how others perceive our work and our worth. "It is inevitable that we will be affected by how other people view us and how they perceive us when we are merely trying to 'be ourselves.'" We should keep in mind too that other's perceptions of us are to a large extent about them.
Huang says we should look for patterns in our life—what rhymes. "Don't go for absolutes go for directionality." This is very helpful. Rather than adopt labels, we should identify directions for three reasons:
Going for directionality, rather than absolutes, helps you manage the impressions of others and guide their perceptions. You can be more fluid and adaptive.

If you go for general directionality, you'll be more likely to avoid striving for goals that don't leverage your strengths and that make it harder for you to create advantages. Self-awareness, in and of itself, is an elusive goal. We never really know ourselves, the best we can do is to find general directionality.

And finally, going for directionality allows you to simply move toward something that feels right, while already finding ways to cultivate an edge.
Self-awareness is knowing what we put out there and how it will be perceived by others. "Guiding entails being purposeful in helping others frame the attribution that they make about us."
Don't let them make assumptions. Give them the data points so that they can draw the trend line that you want them to see. Tell them, rather than allowing them to guess, about your future potential.
By providing directionality, you determine what is meaningful for them to know.
Effort
Effort works with the edge you are creating to inform you of the things you should be putting your effort into—things that you can enrich, delight, and guide. It's in this combination that your effort then works harder for you. "Effort reinforces your edge."
The optimal conditions for creating an edge are those in which bitterness and regret do not restrain you; they embolden you. Even if you are perfect, the world isn't. Acknowledge and accept this, and you have already begun to create your edge. The secret is to know that the deck is stacked, and that life is not fair. But you put in hard work plus, regardless. Don't let success define you, but don't let failure define you either. Play the long game, not the short one.
* * *


Like us on
Instagram
and
Facebook
for additional leadership and personal development ideas.
* * *


Posted by Michael McKinney at 06:22 PM
Permalink | Comments (0) | This post is about Personal Development