Richard Koch on Principles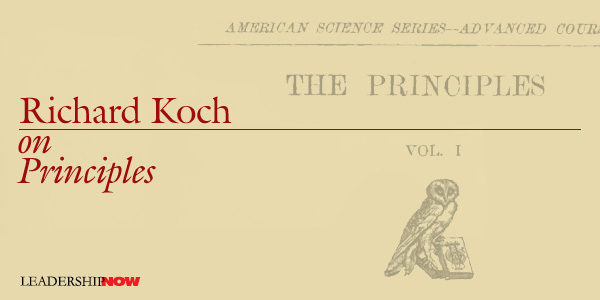 PRINCIPLES ARE WONDERFUL THINGS, because if they are really powerful they can save us enormous effort and stop us going down dead ends. In science and business there are just a few such principles; but whereas most scientists are aware of the beautiful principles in their field, few business people are guided by principles in their daily work, preferring to rely on methods—the next level down.
Yet as the nineteenth-century philosopher Ralph Waldo Emerson said, "As to methods there may be a million and then some, but principles are few. The man who grasps principles can successfully select his own methods. The man who tries methods, ignoring principles, is sure to have trouble."
To qualify, a principle must be so overwhelmingly powerful that ordinary mortals—such as you or me—can reliable create ordinary results, not through personal brilliance, but just by following the principle carefully and with a modicum of common sense.
Adapted from Simplify: How the Best Businesses in the World Succeed by Richard Koch and Greg Lockwood.
* * *


Like us on
Instagram
and
Facebook
for additional leadership and personal development ideas.
* * *


Posted by Michael McKinney at 08:19 PM
Permalink | Comments (1) | This post is about General Business