5 Leadership Lessons: Bo's Lasting Lessons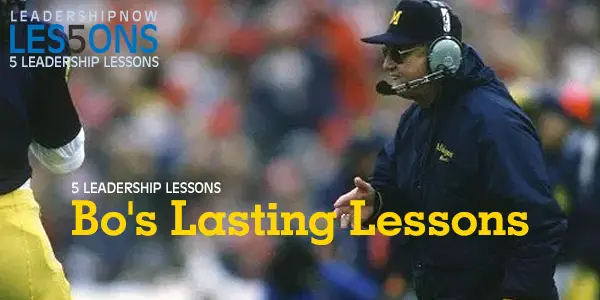 Bo Schembechler's book, Bo's Lasting Lessons, written with John Bacon is an engaging, hands-on, first-person account of the winningest head coach in Michigan football history and fifth on the all-time list, only behind coaching legends Paul 'Bear' Bryant, Amos Alonzo Stagg, Glen 'Pop' Warner, and Woody Hayes. The lessons found here are easily applied anywhere.

  If you have to make a decision they're not going to like, it's better to tell them why you're doing what you're doing. They still won't like it but they'll always appreciate being told instead of being left in the dark. And if you don't tell them why, they'll feel abandoned, and start coming up with all kinds of crazy conspiracy theories.

  You start cutting corners for this guy or that situation, and before you know it, you're spending all your time playing judge and jury, deliberating over every little incident, when you should be leading your team. It's painful sometimes, but you create a lot fewer headaches for everyone, including the players, when you simply stick to your guns.

  If you don't have leadership inside the ranks, you're not going to be successful, because you will spend too much time policing that small things yourself, and create an "us against them" environment.

  If you're a leader, your ultimate responsibility is the training of your people, because every job requires training. If it's a job worth paying someone, it's a job worth training. And it's your job to make sure they're trained well. Make your training as close to the real thing as possible. Sounds easy, but from what I've seen, not many companies do. You get what you emphasize. Plain and simple.


  If you do not like people, you will not take the time to get to know them, and if you don't get to know them, you will have no idea what scares them, what inspires them, what motivates them. If you don't listen to what your people have to say, you will not know when they have a problem with you—and you will not know when you have a problem with them, either.
You cannot lead if you cannot listen.
Even if you're doing
everything else right
, if one of your people comes to you with a good idea—or a personal problem—and it just goes in one ear and out the other, YOU WILL FAIL. You can have a tremendous impact as a leader just by taking a little time. Your people have to know that their value to you and your organization is not determined just by what they
do
, but by who they
are
. I can't make it any clearer than that.
* * *


Like us on
Instagram
and
Facebook
for additional leadership and personal development ideas.
* * *


Posted by Michael McKinney at 06:01 PM
Permalink | Comments (0) | This post is about Books , Leadership