Nick Saban on the 5 Choices We Have in Life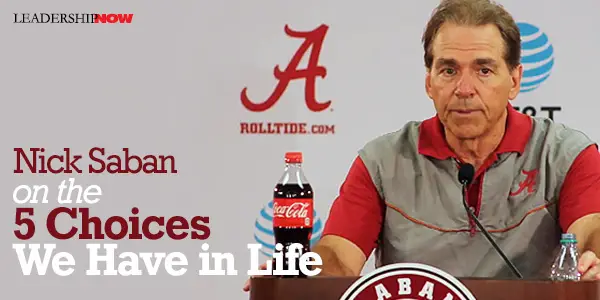 THE 2019 Clinic of Champions held in April and hosted by Alabama head coach Nick Saban and the Crimson Tide football coaching staff featured a number of speakers from around the NFL including Cleveland Browns head coach Freddie Kitchens.
Kitchens explained in his presentation what it takes for good players to become great. It was meant for coaches, but the principles apply to us all across the board. Saban shares his takeaway from that presentation:
Freddie Kitchens made an interesting statement last night when he spoke to the clinic, and I actually shared it with the players today.

You know, we have about five choices in our life. We can be bad at what we do. We can be average at what we do. I mean, we can be good at what we do – which probably is God's expectation for whatever ability He gave us. Or we can be excellent…or we can be elite.

Everybody has a choice as to what they want to do and how they want to do that. But if you're going to be excellent or elite, you've got to do special things. You have to have special intensity, you have to have a special focus, you have to have a special commitment, and drive, and passion to do things at a high level and a high standard all the time.

It doesn't matter what God given ability that you have…that probably can make you good. But without the rest of it, I'm not sure if you ever get excellent or elite, and that's the part that we're trying to get to.
The kind of excellence that Kitchens and Saban are talking about is not easily won. Excellence comes from a fanatical attention to basics. Little things make up the big things. Like the painting by Seurat, many points of activity conspire to produce a single effect. Details done right—at a high level—create excellence.
One of those many points comes down to steadfastly acting instead of reacting to any condition you are faced with. That's driven by consistently keeping the focus on where the team is headed and not where it has been.
* * *


Like us on
Instagram
and
Facebook
for additional leadership and personal development ideas.
* * *


Posted by Michael McKinney at 12:51 PM
Permalink | Comments (0) | This post is about Teamwork