What Should I Be Thinking About?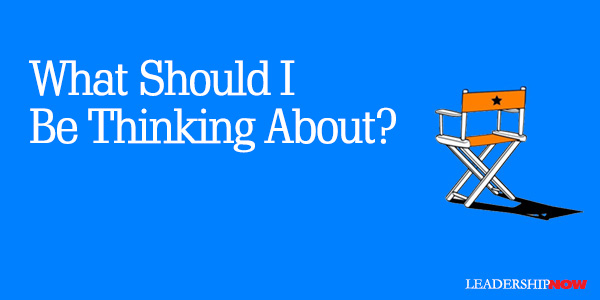 MARK SANBORN (author of, among other things, You Don't Need a Title to be a Leader) wrote a good post about digging a little deeper to find those things to think about that will really make a change in our lives.
We often don't give attention to those things that have become familiar to us. Familiarity breeds contempt, and so we tend to gloss over those things in search of the big thing. In actuality, it is the little everyday life issues that, when acted upon, will have the greatest long-term effect on our life.
Sanborn challenges us with an important question: "What in my life that I can influence or control should I be giving serious thought to today? That would include things like relationships, family issues, financial planning, career choices, health and exercise, and one of my favorites, the difference between activity and accomplishment."
He adds, "The agenda set by print and broadcast media don't always focus us on what we need to be thinking about. The only person who can determine the appropriate thinking agenda for your life is you."
* * *


Follow us on
Instagram
and
Twitter
for additional leadership and personal development ideas.
* * *


Posted by Michael McKinney at 04:12 PM
Permalink | Comments (0) | This post is about Personal Development