Letting Go of Worry About the Future and Resentment From the Past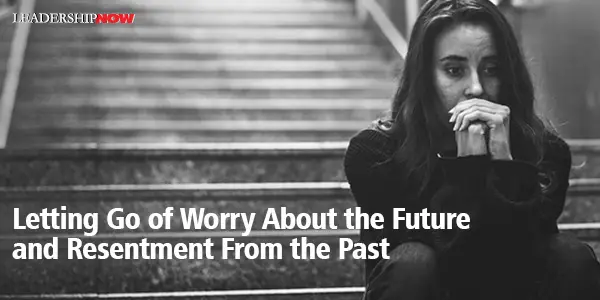 GARY BRANT asks us in his book The Ring in the Rubble, to look at how we are perceiving change in our life. He writes that "change is the great equalizer; it affects all of us. Organizations that view change as an opportunity and aggressively seek to find and capitalize on it, win. Those who don't fall behind and are doomed to forever play catch-up.

"This applies to your personal life as well. Whether you're facing a new marriage, divorce, birth, death, or illness, it's not the change itself that dictates the results we get, it's how we perceive and handle that change that makes all the difference."
For his metaphor, "the ring represents the valuable opportunities that change always creates. The rubble symbolizes the disruption, fear, and uncertainty that change almost always stirs up. My goal is to help you find the rings in the rubble of whatever changes you face, both at work and at home."
Our perceptions of events in our life are based on how we view our world – our attitude. Sometimes our attitude is based in reality, but you would be surprised how often it is not. Often these false assumptions block us – and our organizations - from seeing things as they are and advancing to our full potential. Brant asks a series of questions to help us get at the emotional issues of regret and worry that are holding us back from taking positive action that is worth reviewing from time to time:
What are you holding on to that in reality is holding you down or holding you back?
What are you worrying about incessantly that hasn't happened yet?
What do you gain by holding on to the past or worrying about the future?
Are you willing to feel vulnerable by setting down your sacks of regret ("Only if") and worry ("What if?")? Ultimately, who is hurt if you refuse to surrender them?
What is one thing that you can do in the next 24 hours that will lighten your load? Write it down and/or tell someone about it to help hold yourself accountable for carrying it out.
* * *


Follow us on
Instagram
and
Twitter
for additional leadership and personal development ideas.
* * *

Posted by Michael McKinney at 09:03 AM
Permalink | Comments (0) | This post is about Personal Development