You Don't Need A Title to Be A Leader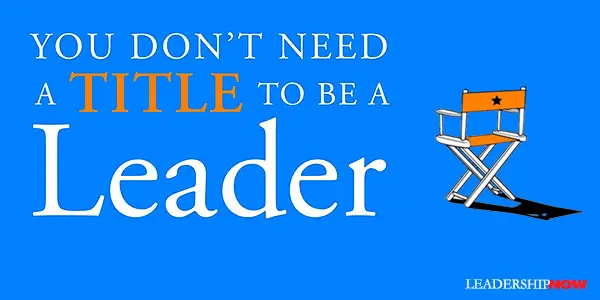 RECENTLY I was talking to a Postal employee about her job. She said that she really saw herself as only a follower. She couldn't be a leader. She just did her job.
After we talked a bit she began to see that by the "little" things she did everyday, she made profound contributions not only to the Post Office but to the people she worked with. I gave her a copy of
this book
. It will help her to see even more clearly, the important contributions she makes—her leadership role.
The fact is, no matter whether we have a title or not, we are at one time or another both leaders and followers. This gem of a book will help you and those you come into contact with, not only understand how they lead in various ways, but how they can step up and make more of a contribution—expand their influence.
Mark Sanborn, author of the Fred Factor, has assembled a collection of excellent examples pulled from everyday life to illustrate the important impact we can and do make on those around us.
Here is a short excerpt:
[A] title is not a job description. There are some things that a title can suggest, like having responsibility for others and getting results. It can't, however, specifically define what a person does.

Titles are broad brushstrokes.
It's impossible for a title or an organizational chart to reflect all the many people who act as leaders or exert leadership throughout the organization. That's why I call such people "nontitled leaders." They may or may not have direct responsibility to lead others, yet every day they influence and lead those around them.
Get this book into the hands of those in your organization. Seeing their role in the greater context will give them meaning and quicken their step.
* * *


Like us on
Instagram
and
Facebook
for additional leadership and personal development ideas.
* * *


Posted by Michael McKinney at 09:07 AM
Permalink | Comments (0) | This post is about Books , Leadership