How You Become Optimistic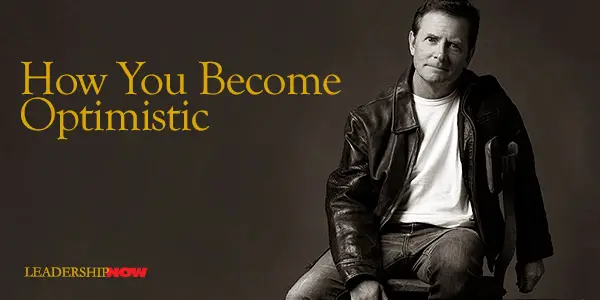 MICHAEL J. FOX has lived with Parkinson's disease since 1991. He says he has developed a sort of détente with the disease that requires adaptability and resilience—and a lot of his characteristic optimism. But recently, on top of that, he had a spinal cord injury that required surgery and months of rehabilitation, going from wheelchair to walker to cane to finally walking. And then he fell.
In his book No Time Like the Future: An Optimist Considers Mortality, he writes that the fall brought him "down in more ways than one. It isn't that I am hurt; I've been hurt many times. I've been through a lot, suffered the slings and arrows. But for some reason, this just feels personal." He says, "Make lemons into lemonade? Screw it—I'm out of the lemonade business."
The accident created doubt. How could he put a positive spin on this? How could he encourage others if he didn't have what it took? He told Kate Coyne at People magazine:
"I went on to think, 'Who am I to put out hope? Like optimism is a panacea? Just commodify hope and say it's something you can use to make your life better?'"

"Parkinson's, my back, my arm … it still didn't add up to moving the needle on the misery index compared to what some people go through," he continues. "I thought, How can I tell these people, 'Chin up. Look at the bright side. Things are going to be great?'"
But through it all, he reclaimed his optimism and found the foundation of optimism.
"Optimism is really rooted in gratitude. Optimism is sustainable when you keep coming back to gratitude, and what follows from that is acceptance. Accepting that this thing has happened, and you accept it for what it is. It doesn't mean that you can't endeavor to change. It doesn't mean you have to accept it as a punishment or a penance, but just put it in its proper place. Then see how much the rest of your life you have to thrive in, and then you can move on."
No matter what our situation is, gratitude brings joy into our life. Life will always present us with difficulties, but gratefulness helps us push through. Gratitude is what turns a bad year into a good one—a challenge into an opportunity.
See how others have found something to be grateful for this year—2020.
Robert Frost told a reporter in 1954: "In three words, I can sum up everything I've learned about life. It goes on. In all the confusions of today, with all our troubles . . . with politicians and people slinging the word fear around, all of us become discouraged . . . tempted to say this is the end, the finish. But life — it goes on. It always has. It always will. Don't forget that."
Be grateful.
* * *


Like us on
Instagram
and
Facebook
for additional leadership and personal development ideas.
* * *


Posted by Michael McKinney at 01:01 PM
Permalink | Comments (0) | This post is about Personal Development