Gratitude: The Habit of Noticing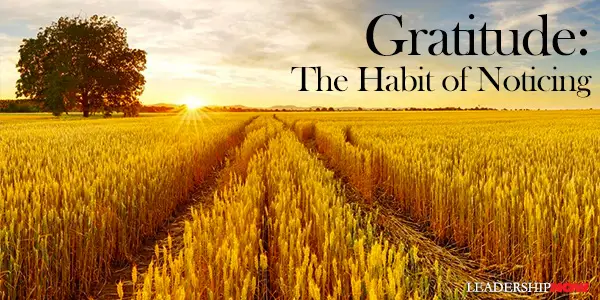 GRATITUDE is a way of investing ourselves in others. A particularly overlooked aspect of the art of gratitude is the habit of noticing. When we notice others and show our appreciation, it pays huge dividends. Additionally, by noticing others we become more attuned to life's vitality, intensity, and diversity.
I related the following story from the book Growing the Distance, a few years ago, but it bears repeating:
Arden Barker had planted a 50-acre field of wheat that was now golden-brown, very full, and ready for harvest. It was a sight to touch the heart of any farmer. When his Uncle Harry came to visit, Arden proudly took him out to look at the field of wheat. Harry looked around, put his hand over his eyes to peer into the distance, and fixed his gaze on a boulder that had been too large to move in the middle of the field. "Is that a stone on the hill?" he asked. He said nothing about the field of wheat. Arden was crushed by his lack of enthusiasm.

The Uncle Harry incident became the subject of discussion at many Barker family dinners thereafter. A few years later, their daughter, Brenda, had just finished cutting and trimming the family's huge lawn. Arden came home and surveyed her work from the kitchen window. "You missed a patch under the trees," he pointed out. Brenda came over to him, put one arm around his waist, and her other hand over her eyes to peer off into the distance and asked, "Is that a stone on the hill?"
Too often, leaders, managers, and parents think that it is crucial to their role to point out where people could improve—to be critical. Certainly, there is a time for that, but it happens all too often. Effective leaders will look for the positive and show gratitude and appreciation for it. People often look to others for direction and support and if it is not forthcoming it can kill the spirit and impede growth.
* * *


Like us on
Instagram
and
Facebook
for additional leadership and personal development ideas.

Posted by Michael McKinney at 12:19 AM
Permalink | Comments (0) | TrackBacks (1) | This post is about Communication , Personal Development