The 24 Hour Rule: Is Your Current Pace Sustainable?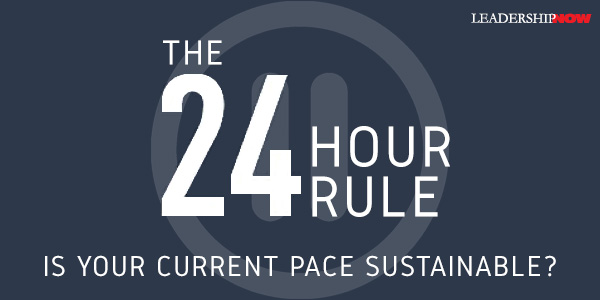 AS LEADERS, we can and do introduce stress into the workplace. Charles Fred initiated a study of over 4000 post-startup business to find out why, after they had experienced early growth, had stagnated.
What the researchers found is a problem in the way employees approached their roles, solved problems, and interacted with each other; poor-performing firms showed working environments of intense stress." The responsibility for that rests on those that influence how others work and interact within the workplace—the leaders.
Our culture baits us into a non-stop frantic pace with the inevitable unintentional behaviors. Many leaders believe that they are just setting the bar for high performance. Our bodies react by producing cortisol and adrenaline to help us keep up, but over time it becomes unproductive stunting the "very tool we need to prosper in today's environment: our cognition. So, when we require mental acuity, we experience diminished recall. When we need sharp thinking and problem-solving, our minds are full."
Into this environment, Charles Fred introduces a leadership discipline that inserts pause and calls it The 24 Hour Rule. "The discipline of pause focuses on the simple notion of creating a space between you and the persistent and perilous stimulus from a frenetic world." It is the role of the leader.
Pause is not a delay but a discipline. It's not a waste of time; rather, it affords us the time to deliberate before we act. It allows us to control how we respond and react to others, whether it takes five seconds or 24 hours. Most importantly, it does not delay our ambitions or dampen the need to hustle.

Unfortunately, leaders don't have a contained workspace or a controlled set of procedures to give us the method to pause. Instead, we begin each day with unknown situations, variables well beyond our ability to plan and prepare. For these reasons, a leader must use self-discipline—the ability to mentally call a time-out, to get rest, to run through a checklist—despite overwhelming temptations to quickly react or respond without doing so.
It is the one thing we have complete control over. Fred writes, "I've learned that I can truly only regulate one thing: the way in which I respond and react to another human."
When we look at the highlight reel of successful people, it gives us the impression that they are always on—always producing. As we watch from the sidelines, we create for ourselves a false set of expectations. We introduce unnecessary stress into our lives and work as we try to keep up. The thing is, it's not real. Top producers insert pause into their work. We need the self-discipline to do the same by letting go of a false ideal.
The 24 Hour Rule is a well thought out and well-executed booklet. Fred provides three steps for building self-discipline around pause. It is a quick read but one that is worth spending some time thinking about.
How will you introduce pause into your leadership?
* * *


Like us on
Instagram
and
Facebook
for additional leadership and personal development ideas.
* * *


Posted by Michael McKinney at 06:48 AM
Permalink | Comments (0) | This post is about Personal Development