Lessons from Washington & Lincoln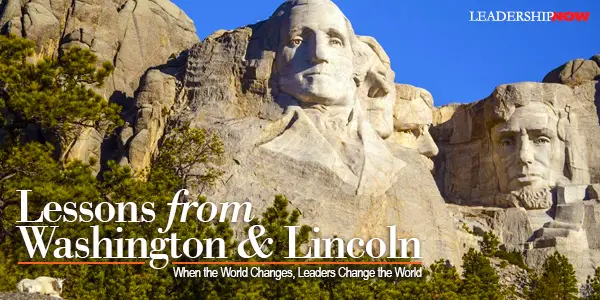 PRESIDENTS DAY was created in 1968 when George Washington's birthday (February 22) was moved to the third Monday of February as part of the Uniform Holidays Bill. Today it is thought of as a day to remember all U.S. presidents but with a focus on the lives of Washington and Lincoln who was also born in February (12th).
Both of these leaders possessed a great deal of self-awareness. Washington's success, in part, came from knowing his weaknesses and controlling them. Lincoln listened. Lincoln took the time to cultivate personal relationships with his subordinates so he could learn from them. Lincoln accepted criticism, but always, he kept a good sense of humor. He chose not to brood over any criticism.
No one is a born leader. Their leadership development began early in life—as it should. Great leaders are revealed in extraordinary circumstances, but they are made long before.
By age sixteen, Washington had copied out by hand, 110 Rules of Civility & Decent Behavior in Company and Conversation. These rules proclaim our respect for others and in turn, give us the gift of self-respect and heightened self-esteem.
These leaders knew who they were and their times. And they lead. Their lives are an example for each of us, and if we are wise, we can use them to inform our own leadership in any context. When the world changes, leaders change the world. Explore the links below to learn more.
* * *


Like us on
Instagram
and
Facebook
for additional leadership and personal development ideas.
Posted by Michael McKinney at 04:57 PM
Permalink | Comments (0) | This post is about Leaders