Thomas Jefferson's Ten Rules to Live By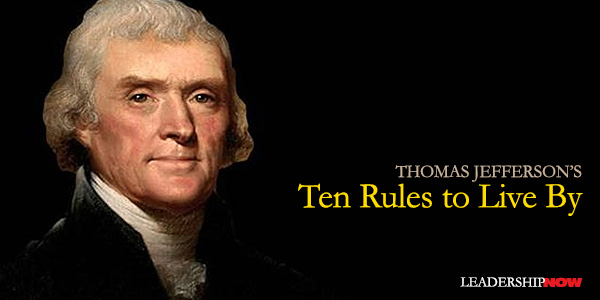 THOMAS JEFFERSON was skilled in many fields. In December 1962, John F. Kennedy entertained a group of Nobel prize winners in the White House and welcomed them as the most distinguished gathering of intellects to dine in the Executive Mansion "with the possible exception of when Mr. Jefferson dined here alone."
Jefferson cared for people and always offered advice when asked. A year before his death, he was asked by a father to give some counsel to his young son, Thomas Jefferson Smith. He responded with a letter that began:
Monticello Feb. 21. 1825.
Th: Jefferson to Th: Jefferson Smith.

This letter will, to you be as one from the dead, the writer will be in the grave before you can weigh it's counsels. your affectionate and excellent father has requested that I would address to you something which might possibly have a favorable influence on the course of life you have to run, and I too, as a namesake, feel an interest in that course. few words will be necessary with good dispositions on your part. adore God. reverence and cherish your parents. love your neighbor as yourself, and your country more than yourself. be just. be true. murmur not at the ways of Providence. so shall the life into which you have entered be the Portal to one of eternal and ineffable bliss. and if to the dead it is permitted to care for the things of this world, every action of your life will be under my regard. farewell.
The letter concluded with ten rules to live by Jefferson titled A Decalogue of Canons for observation in practical life:
Never put off till tomorrow what you can do to-day.
Never trouble another for what you can do yourself.
Never spend your money before you have it.
Never buy a what you do not want, because it is cheap; it will be dear to you.
Pride costs us more than hunger, thirst and cold.
We never repent of having eaten too little.
Nothing is troublesome that we do willingly.
How much pain have cost us the evils which have never happened!
Take things always by their smooth handle.
When angry, count ten, before you speak; if very angry, an hundred.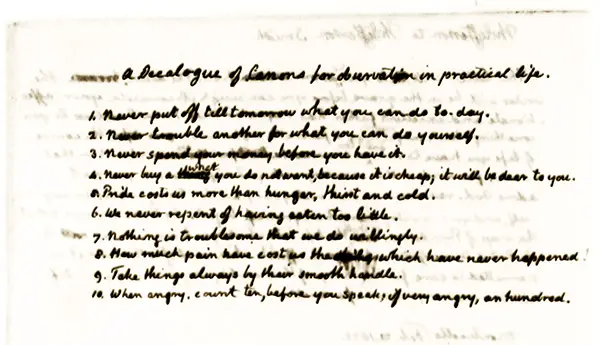 The complete letter can be found on the National Archives website.

* * *


Follow us on
Instagram
and
Twitter
for additional leadership and personal development ideas.
Posted by Michael McKinney at 04:40 PM
Permalink | Comments (0) | This post is about Leaders , Personal Development , Weekend Supplement