That's Not How We Do It Here!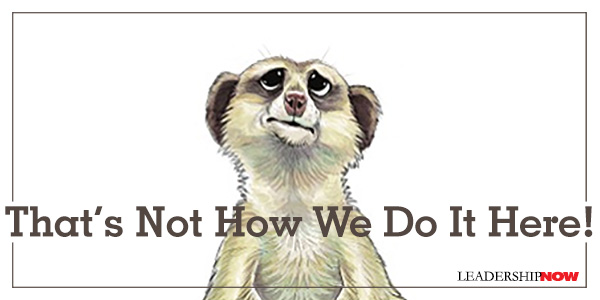 B
USINESS FABLES are not meant to provide great fiction, but to place lessons in a context that make them easier to relate to. And John Kotter and Holger Rathgeber's
That's Not How We Do It Here!
does just that.
It is the story of Nadia bright and adventurous meerkat who is part of a mature clan with over 150 members. This well-managed clan has done well to date but is now faced with unprecedented problems that challenge their once reliable rules and procedures.
Unable to be heard in her clan, Nadia ventures out to see how other clans are dealing with the changes. She finds partial answers in the approach a smaller, loosely organized clan. Returning to her own clan, she figures out how to combine the best of both worlds—a large, disciplined, well-managed clan and that of a small, informal, inspiring clan.
The story parallels the evolution of organizations of all types as they grow and mature. As illustrated in the chart below, most organizations begin by taking the approach in upper left corner (almost by definition). While a bit chaotic, they are curious, adaptable, and energetic. They are learning.
But once success comes they nearly always move into the upper right quadrant. They begin to cope with their size by cementing in systems, structures and policies, that inadvertently kill speed, agility and innovation. New ideas are often greeted with, "That's not how we do things around here." If they persist in this approach, they quickly fall into the lower right corner, becoming complacent, rigid, and slow. The very talent they need to stay relevant and responsive to their changing environment begins to leave. If dramatic change comes their way, they are doomed.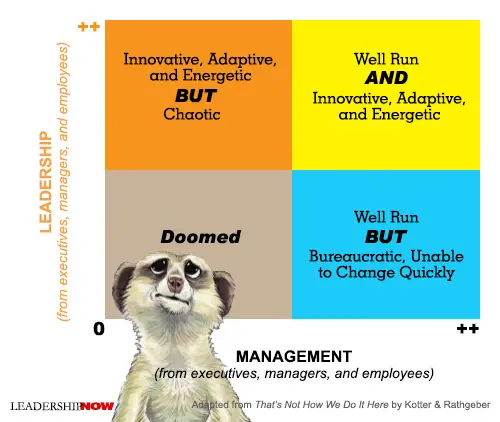 The answer isn't to move back to the upper left corner. The answer is to combine the two by changing the way the organization is led.
The authors suggest that leader begin by creating a sense of urgency around a clear opportunity and mission. Add to that a network-like system that spans silos and layers of hierarchy. These become entrepreneurial units that rekindle a sense of curiosity and learning. Contrary to the nature of a mature organization, much of this is dependent on the leadership's willingness to communicate and embrace and nurture new ideas.
Faced with the environment we are all in, we can no longer comfortably lead the well-managed, calcified organization to its doom.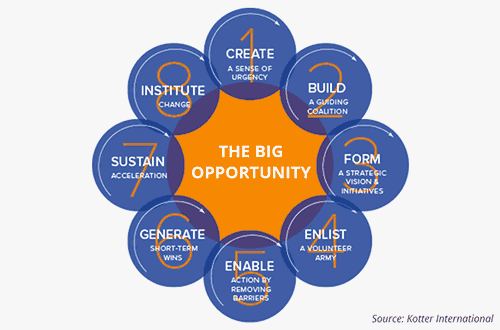 * * *


Like us on
Instagram
and
Facebook
for additional leadership and personal development ideas.
* * *


w on Instagram" target="_blank">Instagram and
Facebook
for additional leadership and personal development ideas.
* * *

Posted by Michael McKinney at 08:24 AM
Permalink | Comments (0) | This post is about Change