What Can't Be Copied?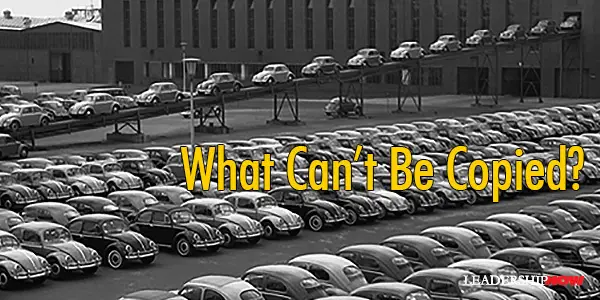 I
N A WORLD where nearly everything can not only be copied but distributed cheaply—and in some cases for free—what takes on significance and value—what matters—are those things that cannot be copied.
Kevin Kelly highlights a number of things that can't be manufactured in his book,
The Inevitable
. They are things that add value to what is a commodity. He begins with trust.
Trust
Trust can't be purchased or reproduced. "You can't download trust and store it in a database or warehouse it. You can't simply duplicate someone else's trust. Rust must be earned, over time."
Immediacy
People will pay for immediacy. Not just first-in-line but beta versions and prereleases. "Immediacy is a relative term (minutes to months), but it can be found in every product and service."
Personalization
You may get the copy free, but you'll pay for personalization. For example, "A free movie you buy may be cut to reflect the rating you desire for family viewing (no sex, kid safe)." Networked data and AI will play a big part here as "personalization requires an ongoing conversation between creator and consumer, artist and fan, producer and user."
Interpretation
There is no replacement for human beings here (and trust). "When a copy of your sequence costs nothing, the interpretation of what it means, what you can do about it, and how to use it—the manual for your genes, so to speak—will be expensive."
Authenticity
When nearly everything can be copied, you will pay to have an "authenticated" copy.
Accessibility
"Ownership often sucks. You have to keep your things tidy, up-to-date, and, in the case of digital material, backed up. And in this mobile world, have to carry it along with you." If you want to own stuff but without the hassle and responsibility of storing it, you will pay to have someone else do it and deliver it when you need it. In many cases to where ever you are.
Embodiment
While intangibles and cloud storage gives you freedom of movement, sometimes you want the real thing. You can stream a live event but it's nothing like actually being there. Holding a paper book is an experience as is having the author read it to you.
Patronage
"Deep down, avid audiences and fans
want
to pay creators. Fans love to reward artists, musicians, authors, actors, and other creators with the tokens of their appreciation, because it allows them to
connect
with people they admire."
Discoverability
People will pay for guidance. "When there are millions of books, millions of songs, millions of films, millions of applications, millions of everything requesting our attention—and most of it free—being found is valuable." Producers will pay for it and consumers will too. We need help in cutting through the clutter and confusion. We appreciate recommendations based on what we like. In the past, record labels served that purpose even though they overlooked some outstanding artists in the process.
While everything on this list adds value, one item stands out from the rest. And that is trust. The other items on the list should be evaluated as to how they might add differentiation to your offering, but leaders need to focus on championing trust and other character issues as a first line of defense to commoditization. These of course, are the hardest to develop and establish but they are the only differentiators that will stand the test of time—the only ones that can never be copied.
Times change but character never does. Good character is hard to measure but it is easily identified. It has universal value, transcending cultures, gender, and races. Character engenders passion and commitment. It gives weight to everything you do. In short, it endures.
* * *


Like us on
Instagram
and
Facebook
for additional leadership and personal development ideas.
Posted by Michael McKinney at 08:06 AM
Permalink | Comments (0) | This post is about Creativity & Innovation