Leading Change: Our Iceberg is Melting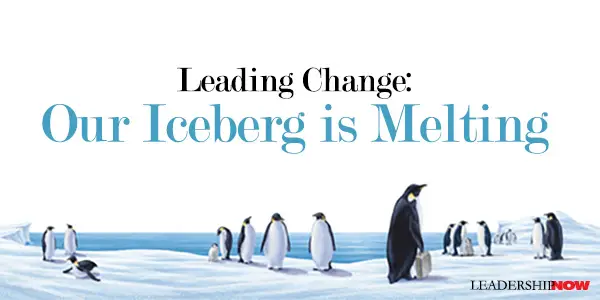 H
ARVARD BUSINESS SCHOOL'S leadership and change guru,
John Kotter
, has created a very useful and accessible fable for change.
Our Iceberg Is Melting
will appeal to people at all levels of an organization. The lessons you can draw from this book will serve you well on the job, in your family, and in your community.

There is really no organization that is not faced with a changing situation. Technology and globalization are perhaps the biggest issues impacting most organizations today. The difficulties that loom for creating that change can be intimidating. Kotter weaves an eight-step process for successful change through the story. These steps can help you get your mind around the change process.
SET THE STAGE:
1. Create a sense of urgency. (not panic) "Problem. What Problem?" Take the issue to the right people.
2. Pull together the guiding team. This team must be strong enough to guide the change—leadership skills, credibility, communications ability, authority, analytical skills and a sense of urgency. If you look at the companies that are good at initiating a major change, increasingly you'll find that it doesn't work if the top few try to do all the heavy lifting.
DECIDE WHAT TO DO:
3. Develop the vision and change strategy. Change to what? Too many change initiatives might indicate that you haven't done this step well. You'll get change burnout and more resistance.
MAKE IT HAPPEN:
4. Communicate for understanding and buy-in.
5. Empower others to act. Remove barriers so that people can act on the new direction. Get the "junk" out of the way to get the momentum. Empowerment, but not a free-for-all—competent training may be called for.
6. Produce short-term wins. It's critical because you always have skeptics. Tangible success will help to drain the power from these people and bring them on board.
7. Don't let up. Even after the win, keep up the pressure to keep the momentum going. Be relentless until you reach the end goal.
8. Create a new culture. Make sure that it sticks—internalized.
The book helps you to see change differently. The importance of emotions in the change process is emphasized. As recent discoveries about the brain have affirmed, the emotional side of how change happens can have a great impact on a successful change initiative. This is a great story and sure to generate discussion ... and change! Check it out.

* * *


Like us on
Instagram
and
Facebook
for additional leadership and personal development ideas.
* * *
>


Posted by Michael McKinney at 12:48 AM
Permalink | Comments (0) | This post is about Books , Change