Smart Business is Business Redefined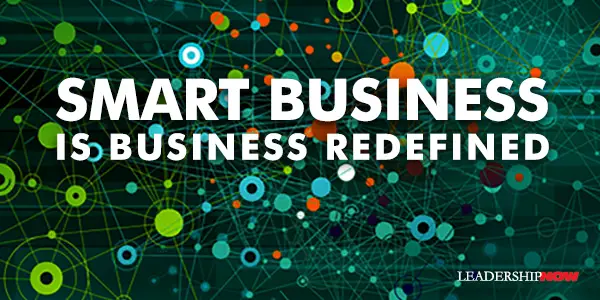 I
N CHINA, near the turn of the century,
Singles Day
(11/11) was celebrated as a time for single people to meet. In 2009 it was reimagined as an online shopping festival. It is now the biggest shopping event in the world.
In 2016, Alibaba facilitated sales of $15 billion. In 2016, Black Friday and Cyber Monday saw less than 3.5 billion dollars. In 2017, three minutes after the day opened at midnight, $1.5 billion in sales had been transacted. At the peak, Alibaba's technology platforms processed 325,000 orders and 256,000 payments every second. It's amazing when you think that VISA's stated capacity as of August 2017 was 65,000 payments per second globally.
Logistics? "Just twelve minutes after the midnight start, the first package arrived at a customer's door in Shanghai. Three minutes later, a woman in Ningbo on China's Pacific coast received the first imported package. Before 9:30 a.m., a hundred million packages had already shipped."
Singles Day is a technological marvel. But it would be wrong to think of Alibaba as China's Amazon. To think of it this way "obscures Alibaba's breakthrough business model and the window it provides on how the economic scene is evolving." The technology and business model Ming Zeng, the chairman of the Academic Council of the Alibaba Group, describes in Smart Business: What Alibaba's Success Reveals About the Future of Strategy.
Unlike Amazon, Alibaba is not even a retailer in the traditional sense—we don't source or keep stock, and logistics services are carried out by third-party service providers. Instead, Alibaba is what you get if you take every function associated with retail and coordinate them online into a sprawling, data-driven network of sellers, marketers, service providers, logistics companies, and manufacturers.

Alibaba's mandate is to apply cutting-edge technologies—from machine learning to the mobile internet and cloud computing—to revolutionize how business is done.
Zeng summarizes the formula for smart business with this simple equation:
Network Coordination + Data Intelligence = Smart Business
"That simple equation reveals what is behind Alibaba's success and captures everything you need to know about business in the future. Success is strength in both networks and data."
In its broadest sense, network coordination is the breaking down of complicated business activity so that groups of people or firms can get it done more effectively.

Impossible for humans, this level of interaction is the essence of network coordination: autonomous coordination with almost unlimited scale and a boundless number of partners over the internet.

Data intelligence is what I call this business capability of effectively iterating products and services according to consumer activity and response.

Under this approach, companies will use network coordination to achieve value, scope, and scale greater than that of their competitors and will deploy data intelligence to make their business smart enough to adjust nimbly to changes in the outside environment and the minds of consumers.
Smart business then, is when all participants involved in achieving a common goal are coordinated in an online network and use machine-learning technology to efficiently leverage data in real-time to generate relevant responses.
A case in point:
25-year-old Zhang Linchao is the head of China's online clothing brand, LIN Edition. Turning her clothing hobby into a business, she turned to Taobao, Alibaba's Chinese e-commerce platform.
In 2015, she prepared to sell a batch of 15 new clothing items at 3:00 p.m. Ten of thousands so of fans are waiting for the sale to begin having already seen previews of this sale on social media. She expects to sell several thousand items but has only had 1000 pieces in stock—total. At 3:00 p.m. 60,000 users are visiting the store. Within one minute, everyone one of the fifteen clothing items sells out. Now preorders are sold. By 3:45 p.m., she has sold more than 10,000 items with each customer spending an average of $150 per order.
Linchao has created an on-demand business—but at mass production price points. What is remarkable is that she finds her customers on social media, keeps almost no inventory, and owns no factories. Yet the customer has the product in 7 to 10 days. The business model is efficient and responsive. Smart businesses like LIN and many others rely heavily on machine-learning technology to achieve scale and manage complexity. Alibaba uses "technology to coordinate business activity across a nearly unlimited number of interconnected parties."
A business strategy is no longer based on competition, but coordination. Routine decisions are made automatically by machines driven by data. "Organizations are no longer static, hierarchical structures that need managing and controlling, but rather are dynamic, fluid networks of interconnected players that must be engaged by mission and opportunity."
Strategy Is About Learning, Not A Plan
Strategy in a smart business is not long-term or short-term planning. It's not planning at all. It's more like learning. Strategy is continually updated by continuous real-time experimentation and customer engagement, which "creates feedback, which leads to adjustment of the vision, which in turn guides new experiments." Can we run a business like an algorithm?
What Does this Mean for Organizations?
The Creativity Revolution is here. Organizations in the Creativity Age will focus on creativity and innovation. "An organization's goal is to improve the efficiency of innovation founded on human insight and creativity." This cannot be managed in the traditional way.
A smart business is "no longer a vessel for conveying orders from the top. It is a vacuum sucking up information about its environment and then generating and coordinating effective responses. The job of leadership is not to manage this experiment, but to make it possible and boost its success rate." Think enabling not managing.
Through enabling mechanisms, management provides the necessary conditions to tackle business problems through innovation as opposed to the execution of tried-and-true procedures. This means managers must now focus on things like articulating the mission and providing the environment that attracts the right collaborators, supplying the tools for them to experiment and scale successful ideas, and providing a market to assess the innovation's success. Instead of micromanaging the firm, management creates the organization's architecture to run itself.
To do this you need a strong culture and the people that fit that culture. "Hiring is the single most important thing a company can do to preserve culture." Culture "works to segregate as much as it does to bring people together." To that end, Alibaba has HR workers randomly assigned to interview employee candidates called, "chief olfactory officers. Their job is to sniff out the match between candidates and the strong corporate culture."
From Zeng's perspective, "the individual has more potential than maybe at any other time in history." New technologies can free individuals from static organizations. New technologies "need not swallow the individual, but instead can propel you forward toward greater heights."
Smart Business is one of the most fascinating books you'll read this year on strategy and the future of business. At the very least it will expand your perspective. Zeng details the principles and practices that companies need to become smart businesses and the implications to the organization of those implemented principles and practices.
Singles Day is an example of what is possible when networks and data are brought together at the same time. "Thousands of companies come together seamlessly and instantly to provide millions of customers with what they want. Unimaginable scale is possible when businesses are smart."
* * *


Like us on
Instagram
and
Facebook
for additional leadership and personal development ideas.
* * *

Posted by Michael McKinney at 07:35 AM
Permalink | Comments (0) | This post is about Artificial Intelligence , General Business