Didn't See It Coming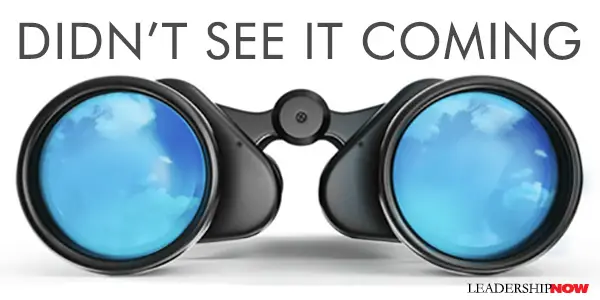 T
HERE ARE SEVEN key life challenges that every leader will face to one degree or another. Any one of them has the potential to derail even the best of leaders. But here's the thing. While they may creep up on us,
we can see them coming and apply the proper antidote
.
Carey Nieuwhof is the author of Didn't See It Coming. He wrote this book because too often we don't. And even though these seven challenges never really go away, we can create some life habits that keep them at bay.
Nieuwhof writes from a been-there-done-that Christian perspective about the issues as they manifest themselves in our lives and follows up each one with a chapter on how to combat it. It's not really just for leaders. These issues affect everyone and some you'll find hit close to home.
The seven challenges are:
Cynicism
Disappointment and frustration often end in cynicism. "Most cynics are former optimists." He reminds us that cynicism is a choice that benefits no one. "Cynics never change the world. They just tell us why you can't change the world. Ask them and they know all about it." The antidote is curiosity. "Curious people are never cynical, and cynical people are never curious." Simple but profound.
Compromise
The little compromises we make every day—the half-truths, the rationalizations, the excuses— "create a gap between who we are and who we want to be." We often look to competency to carry us to success. It may get us in the door, but character is what determines how far we go. "If you don't nurture your character daily, you can be most admired by the people who you know the least, while the people who know you best struggle with you the most." Our character gets challenged every day. The antidote to compromise is to "work twice as hard on your character as you do on your competency."
Disconnection
Nieuwhof notes that technology doesn't create disconnection, it just reveals what is already going on inside of us. "Disconnection is a human problem. Technology just makes it worse." So the solution is to deal with what is going on inside of us. "When you search for an explanation as to why you have a hard time trusting or opening your heart to people, you can make progress. You're using the past as a stepping stone into the future, not as a barricade against it." Engage in life-giving conversation. Eliminate hurry from your life. And this comment could pull any of us up short:
For me, the sense that a conversation is going nowhere always carries with it an underpinning of judgment and even arrogance on my part. I just assume I'm better, smarter, or wiser or that I have greater emotional intelligence than others. Which, of course, should drive me right back to my knees in confession. After all, we're encouraged to think of others as better than ourselves. That's a cornerstone habit of the humble.
Irrelevance
Irrelevance happens when what you do no longer connects to the culture and the people around you. That gap is a factor of how fast things change relative to you. You defeat it by continuously "changing, learning, and evolving. Change staves off irrelevance." A key idea here is you need to "love the mission more than the methods." An easy trap to fall into. Get radical about change. Surround yourself with younger people. Seek change to transform you.
Pride
Pride manifests itself in many different and subtle ways so it's hard to spot—in ourselves. "Pride will snuff out your empathy, stifle your compassion, create division, suffocate love, foster jealousy, deaden your soul, and make you think all this is normal." The only way to deal with pride is to cultivate humility. "Learn the ways of the humble and make it your principal way of operating." Nieuwhof offers practical ways to begin to make this happen in your life.
Burnout
Burnout saps the meaning and wonder out of life. Signs of burnout include among other things: your passion fades, you no longer feel your highs and lows, little things make you disproportionately emotional, everybody drains you, nothing satisfies you, and your productivity drops. Getting out of this state begins by admitting it and then figuring out how to live today so you will thrive tomorrow. What does that look like? "Maintaining health in all five major areas of life (spiritual, emotional, relational, physical, and financial)" must become a priority. Nieuwhof recommends some concrete steps you can take to bring you back from burnout. Go deep enough and take enough time to recover so that you begin to feel gratitude for the process.
Emptiness
Ironically, success often makes you feel empty. Once you have arrived, "you find there's still something inside you that says there has to be more." The antidote: "find a mission that's bigger than you." He continues, "Selfishness looks good only to the selfish in the same way that pride is attractive only to the proud. Humility will win you what pride never will: the affection of others. And that's exactly what selflessness will do. Other people naturally gravitate toward people who live for a cause beyond themselves."
Didn't See It Coming is full of understanding and insight. The practical advice found here will benefit anyone on their leadership journey.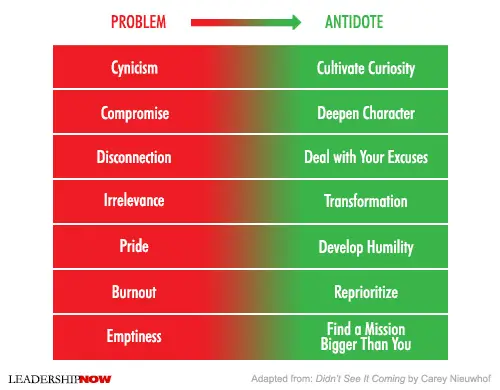 * * *


Like us on
Instagram
and
Facebook
for additional leadership and personal development ideas.
* * *


Posted by Michael McKinney at 08:01 AM
Permalink | Comments (0) | This post is about Leadership Development , Personal Development