Attitude of Wisdom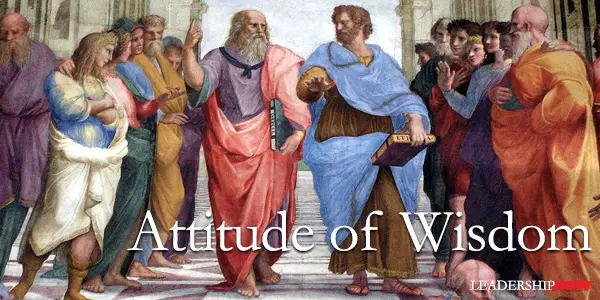 AMERICAN essayist Norman Cousins wrote, "Wisdom consists of the anticipation of consequences." Wisdom is about the thinking through of thoughts, behaviors and actions and seeing their relationships. It is seeing how things are connected. It is easy to get so caught up in what we are doing that we operate as though we are in a vacuum. Yale University professor Robert Sternberg explained that one reason smart people are sometimes inexplicably stupid is that they think they have overcome the problem of consequences.
Understanding how everything is connected is a daunting task, but it shouldn't cause us to stop dead in our tracks full of indecision. We still have to function. Professors Pfeffer and Sutton suggest in their book Hard Facts, that we must travel through life with an attitude of wisdom. That attitude is described as the ability to act with knowledge while doubting what you know. They point out that this attitude or approach is the single most important quality that a leader, advisor, or team can have for practicing evidence-based management.
This attitude enables people to act on what they already know while at the same time doubting what they know. It means they can do things now, as well as keep learning along the way. It implies a certain degree of humility to make it work. You really have to be able to get out of your own way. Professor Karl Weick said, "Argue like you're right, but listen as if you're wrong." From Hard Facts:
Practicing evidence-based management means adopting beliefs and designing settings that enable people to keep acting with knowledge while doubting what they know, and to openly acknowledge the imperfections in even their best ideas along the way.
A lot of experience often holds people back from adapting this attitude. An old example holds true here: A person may say, "I have 20 years of experience." But it's not 20 years of experience. It's 1 year repeated 20 times. That is to say, we live our lives in such a way that we aren't really learning. We're repeating. While wisdom requires that we arrange what we observe and know, and create meaning from it, it also requires that we consider what we need to unlearn as well.
* * *


Like us on
Instagram
and
Facebook
for additional leadership and personal development ideas.

Posted by Michael McKinney at 12:27 AM
Permalink | Comments (0) | This post is about Leadership , Thinking