Asset-Based Thinking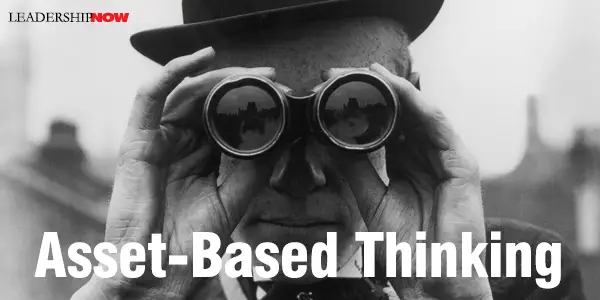 DOUGLAS RUSHKOFF wrote, "Instead of focusing on what we still lack, we must take stock of what we already do have in terms of resources, abilities, and pure will." This is the essence of asset-based thinking. It's not to be confused with the head-in-the-sand everything-is-wonderful way of thinking. That's the other ditch of typical one-dimensional thinking. It's not about finding everything that's wonderful around you to create a false sense of euphoria. It's about asking, "What are the assets here?" What is working?" and how can I use these things — how can I leverage these things — to reach my goals. What is being encouraged here is reality-based multidimensional thinking. It demonstrates that there is another way of thinking about or looking at most every situation.
Through brilliant design (as shown below), Change the Way You See Everything illuminates these concepts. Authors Kathryn Cramer (psychologist) and Hank Wasiak (advertising) ask you to image the seismic shift that would occur if people just focused their attention on opportunities rather than problems, strengths more than weaknesses and what can be done instead of what can't.
When you decrease your focus on what is wrong (deficit-based thinking) and increase your focus on what is right (Asset-Based Thinking), you build enthusiasm and energy, strengthen relationships, and move people and productivity to the next level.
We all need this book. Despite the fact that this is a simple — yet life-changing concept — it doesn't make it any easier to execute these ideas in our lives or organizations. Unfortunately, the fact is our default setting is toward deficit-based thinking. We gravitate towards the negative, towards what's not working. This mode of thinking and viewing the world holds us back. Deficit-based thinking is driven by fear. Asset-based thinking is driven by desire.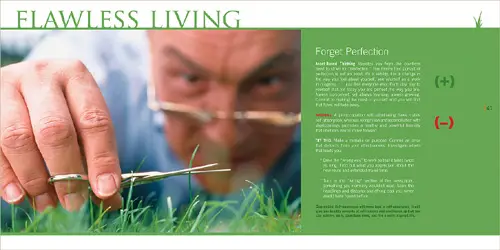 Excerpt: Forget Perfection    Asset-Based Thinking liberates you from the pointless need to strive for "perfection." You realize that pursuit of perfection is not an asset, it's a liability. For a change in the way you feel about yourself, see yourself as a work in progress . . . just like everyone else. Each day, say to yourself that for today you are perfect the way you are. Always competent, yet always learning, always growing. Commit to making the lost of yourself and you will find that flaws will fade away.
   WARNING: A preoccupation with eliminating flaws invites self-absorption, whereas recognition and reconciliation with shortcoming promotes a healthy and powerful humility that liberates you to move forward.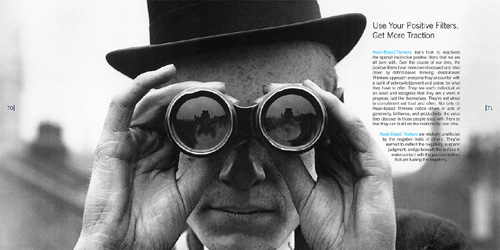 Excerpt: Use Your Postive Filters, Get More Traction    Asset-Based Thinkers learn how to reactivate the special instinctive positive filters that we are all born with. Over the course of our lives, the positive filters have been overshadowed and shut down by deficit-based thinking. Asset-based Thinkers approach everyone they encounter with the spirit of acknowledgement and praise for what they have to offer. They see each individual as an asset and recognize that they are a work in progress, just like themselves.
   Asset-Based Thinkers are relatively unaffected by the negative traits of others. They've learned to deflect the negativity, suspend judgment, and go beneath the surface to make contact with the positive motives that are fueling the negativity.
This is an important book. It is both mentally and emotionally engaging. Get this book for yourself and anyone you care about. Asset-based thinking is the foundational step that you need to put into place in order to build a success system that has a sense of personal responsibility, creativity and resilience.

Related Links:
* * *


Like us on
Instagram
and
Facebook
for additional leadership and personal development ideas.
* * *

Posted by Michael McKinney at 01:11 AM
Permalink | Comments (0) | This post is about Books , Thinking