First Look: Leadership Books for January 2018
Here's a look at some of the best leadership books to be released in
January
.

Powerful
: Building a Culture of Freedom and Responsibility by
Patty McCord

The Right—and Wrong—Stuff
: How Brilliant Careers Are Made and Unmade by
Carter Cast

The Power of Vulnerability
: How to Create a Team of Leaders by Shifting INward by
Barry Kaplan and Jeffrey Manchester

The Culture Code
: The Secrets of Highly Successful Groups by
Daniel Coyle

Great at Work
: How Top Performers Do Less, Work Better, and Achieve More by
Morten Hansen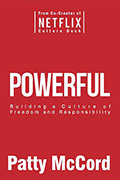 For bulk orders call 1-800-423-8273

Build your leadership library with these specials on over
39 titles
. All titles are at least 40% off the list price and are available only in limited quantities.
* * *
"A capacity and taste for reading gives access to whatever has already been discovered by others."
— Abraham Lincoln
Posted by Michael McKinney at 07:48 AM
Permalink | Comments (0) | This post is about Books