Great at Work
: How Top Performers Do Less, Work Better, and Achieve More
Morten Hansen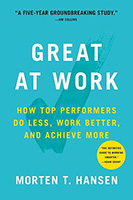 Format:
Hardcover, 320pp.
ISBN:
9781476765624
Publisher:
Simon & Schuster
Pub. Date:
January 30, 2018
Average Customer Review:

For Bulk Orders Call: 626-441-2024

Description and Reviews
From
The Publisher:
From the New York Times bestselling author of
Great by Choice
comes an authoritative, practical guide to individual performance—based on analysis from an exhaustive, groundbreaking study.
Why do some people perform better at work than others? This deceptively simple question continues to confound professionals in all sectors of the workforce. Now, after a unique, five-year study of more than 5,000 managers and employees, Morten Hansen reveals the answers in his "Seven Work Smarter Practices" that can be applied by anyone looking to maximize their time and performance.
Each of Hansen's seven practices is highlighted by inspiring stories from individuals in his comprehensive study. You'll meet a high school principal who engineered a dramatic turnaround of his failing high school; a rural Indian farmer determined to establish a better way of life for women in his village; and a sushi chef, whose simple preparation has led to his restaurant (tucked away under a Tokyo subway station underpass) being awarded the maximum of three Michelin stars. Hansen also explains how the way Alfred Hitchcock filmed
Psycho
and the 1911 race to become the first explorer to reach the South Pole both illustrate the use of his seven practices (even before they were identified).
Each chapter contains questions and key insights to allow you to assess your own performance and figure out your work strengths, as well as your weaknesses. Once you understand your individual style, there are mini-quizzes, questionnaires, and clear tips to assist you focus on a strategy to become a more productive worker. Extensive, accessible, and friendly,
Great at Work
will help you achieve more by working less, backed by unprecedented statistical analysis.

Reviews
"In an ambitious new study, Morten Hansen illuminates the habits that separate superstars from their peers. This is the definitive guide to working smarter."
—Adam Grant, New York Times bestselling author of Give and Take, Originals, and Option B (with Sheryl Sandberg)
"The typical book about management or careers requires a heavy dose of faith because you don't know where the recommendations come from. Morten Hansen brings beautiful data from a massive research project that reveals how stars at work, in dozens of industries, actually do their work. The data and Hansen's analysis will surprise you, change you, and make you better at work... no leaps of faith required."
—Chip Heath, Professor Stanford Graduate School of Business, and author of three New York Times bestsellers, including Switch
"In this groundbreaking book, Morten Hansen delivers on the genius of "and:" rigorous and relevant, research-driven and well-written, empirical and empowering, timeless and practical, full of big concepts and useful tips. Hansen's work is truly distinctive in the genre of professional effectiveness, and a tremendous contribution. This is a book I will read more than once, and reference forever."
—Jim Collins, author of Good to Great, co-author of Built to Last and Great by Choice
"Some managers and employees are star performers. We've always wanted to know why, and now Morten Hansen tells us. It's not because they work longer or harder than everyone else. It's because they adopt a 'growth mindset' and find ways to work smarter. This magnificent study of over 5,000 employees reveals exactly what these stars do and is a landmark contribution to understanding the roots of professional success."
—Carol Dweck, author of Mindset

About the Author
Morten T. Hansen
is a management professor at University of California, Berkeley. He is the coauthor (with Jim Collins) of the New York Times bestseller Great by Choice and the author of the highly acclaimed Collaboration and Great at Work. Formerly a professor at Harvard Business School and INSEAD (France), professor Hansen holds a PhD from Stanford Business School, where he was a Fulbright scholar. His academic research has won several prestigious awards, and he is ranked one of the world's most influential management thinkers by Thinkers50. Morten Hansen was also a manager at the Boston Consulting Group, where he advised corporate clients worldwide. Born and raised in Norway, he lives in San Francisco with his wife and two daughters, and he travels the world to give keynotes and help companies and people become great at work.