Powerful
: Building a Culture of Freedom and Responsibility
Patty McCord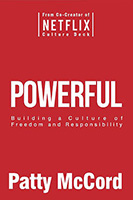 Format:
Hardcover, 228pp.
ISBN:
9781939714091
Publisher:
Silicon Guild
Pub. Date:
January 9, 2018
Average Customer Review:


For Bulk Orders Call: 626-441-2024

Description and Reviews
From
The Publisher:
When it comes to recruiting, motivating, and creating great teams, Patty McCord says most companies have it all wrong. McCord helped create the unique and high-performing culture at Netflix, where she was chief talent officer. In her new book,
Powerful: Building a Culture of Freedom and Responsibility
, she shares what she learned there and elsewhere in Silicon Valley.
McCord advocates practicing radical honesty in the workplace, saying good-bye to employees who don't fit the company's emerging needs, and motivating with challenging work, not promises, perks, and bonus plans. McCord argues that the old standbys of corporate HR—annual performance reviews, retention plans, employee empowerment and engagement programs—often end up being a colossal waste of time and resources. Her road-tested advice, offered with humor and irreverence, provides readers a different path for creating a culture of high performance and profitability.
Powerful will change how you think about work and the way a business should be run.

Reviews
Magical! An enlightening ride through young companies bucking orthodoxy.
—Reed Hastings, CEO of Netflix
If your company is pursuing greatness and comfortable with the idea of embracing change, this book is a must-read. It's as simple as that. Patty McCord articulates what many leaders need to hear, then teaches you how to implement it.
—Neil Blumenthal and Dave Gilboa, co-founders and co-CEOs of Warbly Parker

About the Author
Patty McCord
served as chief talent officer of Netflix for fourteen years and helped create the Netflix Culture Deck. Since it was first posted on the web, the Culture Deck has been viewed more than 15 million times, and Sheryl Sandberg has said that it "may be the most important document ever to come out of Silicon Valley." Patty participated in IPOs at Netflix and, before that, Pure Atria Software. A veteran of Sun Microsystems, Borland, and Seagate Technologies, she has also worked with small start-ups. Her background includes staffing, diversity, communications, and international human resources positions. Currently, Patty coaches and advises a small group of companies and entrepreneurs on culture and leadership. She also speaks to groups and teams around the world.