The Power of Vulnerability
: How to Create a Team of Leaders by Shifting INward
Barry Kaplan and Jeffrey Manchester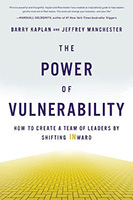 Format:
Hardcover, 256 pages
ISBN:
9781626344730
Publisher:
Greenleaf Book Group Press
Pub. Date:
January 9, 2018
Average Customer Review:

For Bulk Orders Call: 626-441-2024

Description and Reviews
From
The Publisher:
In
The Power of Vulnerability: How to Create a Team of Leaders by Shifting INward
authors Barry Kaplan and Jeffrey Manchester have leveraged their decades of experience and created a guide to finding success and fulfillment for teams and individuals. Based on their work through Shift180 with executives and their teams,
The Power of Vulnerability
offers a new approach to transforming corporate culture so that you can thrive at work and in life.
Work is often a source of dissatisfaction for people because in their desire to get ahead, they often lose touch with their values and internal sources of power. The authors teach readers how to:
• Create a sense of safety
• Encourage exploration
• Develop an INpowered team that transcends organizational hierarchy
• Foster communication
• Be authentic
Manchester and Kaplan can help you find INpowerment so that you and your colleagues can create a fulfilling, supportive, and open corporate culture. This fulfillment creates loyalty and long-term employee commitment to organizations.
The Power of Vulnerability
includes everything that you need to unlock the potential of yourself and your organization. Get INpowered. Start a cultural revolution. Begin your journey today.

Reviews
"At once powerful and thoughtful, Kaplan and Manchester have created an inspirational guide to help leaders get the most out of their teams. This book will change your business--and your life!"
—Marshall Goldsmith, author of #1 New York Times bestseller Triggers
"The Power of Vulnerability shows how you can fully embrace your authentic purpose to bring passion to your work and guide others to do this, too. This easy to read and practical guide is a must for everyone on your team."
—Paul J. Zak, author of Trust Factor: The Science of Creating High Performance Companies
"Too often, leaders believe that success comes from their ability to wear 'many different hats.' The Power of Vulnerability dashes that myth. Top leaders know how to live authentically, operating from a place of passion and openness. Kaplan and Manchester tell leaders how to look inward as a way to build stronger, more satisfying relationships. Immature leaders strive to create followers; vulnerable leaders know how to create a team of leaders."
—Scott Carbonara, author of Manager's Guide to Employee Engagement and Go Positive! Lead to Engage
"The Power of Vulnerability fundamentally changes how leaders think about relationships in their business. It's a smart innovation shift in thinking and approach that can transform the culture of your team and organization."
—David Landsberg, president & CEO of Goodwill Industries of South Florida, former publisher of The Miami Herald

About the Authors
Barry Kaplan
inspires leaders and their teams declare what they want and coaches them to access their power to make it happen. Barry's coaching wisdom comes from his experience leading teams in the tourism industry ranging from COO of a 200-store chain with over 2,000 employees; division president and board member of a public company in dining, entertainment and travel; and cofounder and senior executive of a twenty-one-company roll up in leisure travel. He has coached hundreds of executives and works extensively with leadership teams and YPO forums.
Jeffrey Manchester
has worked with over 1,000 presidents and CEOs as a strategic advisor, through one-on-one executive coaching, working with their management teams, and in small groups. He is a master at INpowering individuals and teams to maximize their true potential. Manchester has a lifetime of experience in business management and consulting, from the beginning of his career with Accenture and then later cofounding a highly successful systems consulting business that was recognized as an Inc. 500 Fastest Growing Company.