8 Ways To Design a High-Trust Culture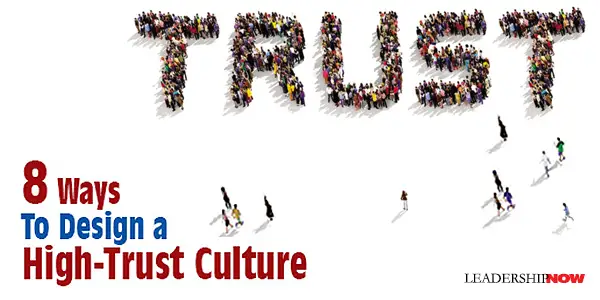 T
RUST BEGETS TRUST. Paul Zak, the author of
The Trust Factor
, has shown that "when someone is tangibly trusted by a stranger, the brain synthesizes the signaling chemical oxytocin" and "
the more trust one is shown, the more the brain produces oxytocin
." Oxytocin is our brain's way of signaling trust.
Zak says that the most important thing to know is that "oxytocin works by activating a brain network that makes us more empathic." He calls oxytocin "the moral molecule because when the brain releases it, we treat others well."
High levels of stress and testosterone inhibit the release of oxytocin. But here's the good news. "You can actively promote oxytocin release and capture its benefits, including increased interpersonal trust and improved health, by modifying your default social behaviors." Competition and status increases testosterone in both men and women. (Men have five to ten times more testosterone than women.) Promotion? Hot new romantic partner? Large bonus? "Testosterone whispers to our brains that we have won the social lottery and make us behave like demigods. It also increases libido. No surprise that CEOs, presidents, and movie stars have affairs." Putting a check on your behavior will help you to produce a high-trust culture.
Neuroscience has affirmed eight factors that are the building blocks of organizational trust. Zak has labeled these eight ways around the acronym OXYTOCIN.
Ovation is recognizing colleagues who contribute to the organization's success. Ovation should be unexpected, tangible, and personal. It should also be close in time (no more than a week), consistent, and done publically.
eXpectation is setting difficult but achievable eXpectations. It engages the brain's reward system, so that meeting goals at work becomes highly engaging and enjoyable. Challenging stress is good for you. Regular feedback on performance builds neural pathways in the brain that adapt behavior to meet goals.
Yield means leaders must let go. Empower people to share their expertise and allow them to choose how to do projects. Instigate innovation by encouraging mistakes with limited downside and reward employees who make them. Train extensively and delegate generously.
Transfer supports autonomy. Enables self-management by permitting colleagues to craft their own jobs. Facilitate self-mastery and skill development. Advise between teams without dictating. For transfer or self-management to be effective, Ovation, eXpectation, and Yield must be present in the organization.
Openness involves keeping others informed. Sharing information broadly with colleagues and additionally, soliciting input and valuing the input of others. Organizational trust occurs when decisions are transparent, and reasons for decisions are shared.
Caring is intentionally building relationships and prioritizing empathy. Supporting others. Letting people take the time to get to know each other increases trust. Emotions are recognized and accepted. Sometimes "difficult" people just need to be recognized and shown care. Peter Drucker said, "The number one practical competency for success in life and work is empathy."
Invest is committing to "whole person" development and work-life integration. Although it provides the foundation for a long-term commitment to the organization, investing in people is quite often just an afterthought. Do a Whole Person Review that asks three questions: Are you growing professionally? (Am I helping you to get your next job?) Are you growing personally? (Are you and your family happy?) Are you growing spiritually? (Are you developing as a human being?)
Natural is allowing leaders and colleagues to be human, honest, and vulnerable. Ask for feedback on a daily or weekly basis. "A natural leader is one who accepts responsibility for mistakes and includes others in wins, who know the organization at every level, from the front lines to the executive suite." Work the front lines at least one day a month.
Trust when coupled with purpose results in joy at work. Working in a high-trust culture modestly increases joy. "Organizations should not try to make people happy at work. Joy is the result of working with trusted colleagues who have a transcendent purpose." Joy=Trust x Purpose.
Does your organization have a high-trust, high-performance culture? You can take the brief 16-question Ofactor Pulse & find out for sure.
* * *


Like us on
Instagram
and
Facebook
for additional leadership and personal development ideas.
* * *

Posted by Michael McKinney at 07:43 AM
Permalink | Comments (0) | This post is about Management , Trust