Are You Losing Inside the Box?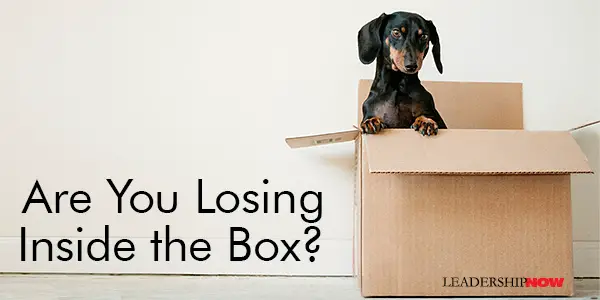 IF you're losing inside the box, don't bother trying to compete outside the box. If you don't have the basics in place or more to the point, if you aren't excelling at the basics, then no one cares about your uniqueness or your wow factor.
Joe Calloway is one of those people that cuts through the clutter and gets to the core issue. His book Be the Best at What Matters Most is full of that—what matters most. He makes a point that is important on a number of levels.
For businesses, the wow factor is nice but what is more important is to "deliver on your promise every time, with every customer, with amazing consistency." He adds, "You want to constantly innovate and improve for one purpose: to win inside the box. By 'inside the box,' I mean those things that matter most to the marketplace. These are the basic expectations of your customers."
Calloway says that we should take another look at the basics of our business and be sure that we are hitting 10 on a scale of 1 to 10 inside the box before we start thinking about how we can surprise our customers. "The battle is won and lost inside the box."
Regarding the random acts of wow that we hear about from time to time, Calloway says that they are wonderful and we should do them. "But that's not where you'll win or lose the game. Don't think that some once-a-year special thing that you do ever takes the place of consistently being the best at what matters most. Put your energy, effort, and focus into doing a really, really great job on the basics and into consistency of performance. That determines how you treat your customers."
This is great material and it also applies in terms of your leadership. Are you losing inside the box?
It's tempting to try to put on the showier aspects of leadership and ignore the hard-won aspects of trust, communication and character. We want the choicest assignments and the most visible trappings of leadership. It's nice to be the superhero. But great leadership is won and lost inside the box. Are you generous with information? Are you respectful? Do you listen? Do you communicate? Do you take the time to build others? Do you set a proper example? Can you follow when necessary? Can you set your ego aside? Are you accountable? Do you understand that it's not about you?
It's fun to be spectacular and to be seen. You may be very competent, charismatic, and eloquent, but if you are not getting the basics right, then you're a liability, not an asset. Leader's derail quickly when they make it about them; when the organization exists to serve them and their agenda.
I've seen more than a few leaders derail because they forgot to develop and sustain one or two of the basic practices of good leadership inside the box. They looked good on the outside but it was the day-to-day that they struggled with and never addressed.
The real work of leadership is often the unsung, behind-the-scenes work of serving others that must be done on a daily basis. It may not give us that temporary ego boost, but it is the most rewarding work and has the biggest payoff in the long run.
So, the real question is, are we working to improve the basics on a daily basis? Are we hitting 10 on a scale of 1 to 10 inside the box?
| | | |
| --- | --- | --- |
| | | If you want to know what you should be doing as opposed to what you want to be doing, read Be the Best at What Matters Most. Joe Calloway's insights are down-to-earth and practical. They will get results. His prescriptions are not quick fixes, but habits to build based on sound principles. |
* * *


Like us on
Instagram
and
Facebook
for additional leadership and personal development ideas.
* * *

Posted by Michael McKinney at 07:48 AM
Permalink | Comments (0) | This post is about Leadership Development