9 Tips to Avoid Getting Sidetracked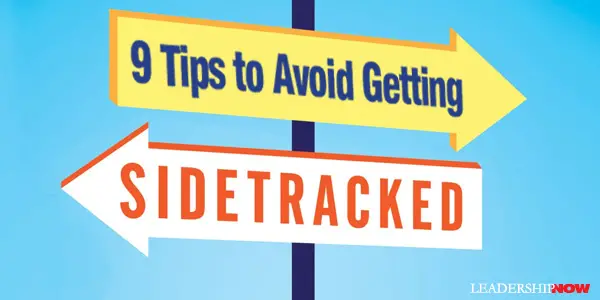 TOO OFTEN WE think we know exactly what is going on in our minds and what is affecting our behavior. Even though we are committed to our plans we find that the end result bears little resemblance to our best intentions. Somehow we get sidetracked.
We face internal pressures, relational pressures, and external pressures to take us off course. These pressures keep us from being consistent with our self-image as capable, competent, and honest individuals.

In
Sidetracked
, Francesca Gino has highlighted nine reasons we get sidetracked—why our decisions get derailed—and provides solutions to avoid them. Here are nine tips to avoid getting sidetracked:
Raise your awareness of the subtle influences on your decisions. For instance, our biased views of how competent and capable we are can make us unwilling to listen to the opinions of others. We tend to value expensive advice over inexpensive advice.
Take your emotional temperature before you make a decision to see if an unrelated event is affecting the decision at hand. Our moods affect our decisions. Ask, "Is this emotion clouding my judgment?" The emotions we experience while implementing our plans can sidetrack us.
Zoom out to include more information when making our decisions. Ask: "Why did I choose the information that I did?" "What information am I missing?" "What was my initial plan?" and "Why did I embark on this course of action?"
Take the other party's point of view. We tend to overestimate the extent to which others share our attitudes and feelings, to believe that others have more access to our internal states than they actually do, to use ourselves as a standard when evaluating others, and to draw on our own experiences when anticipating how others will evaluate us. What seems obvious to us is not always obvious to others.
Question your bonds—your links and similarities—to those around you and consider whether these bonds may be influencing your decisions for the worse. The behavior and decisions of others not only affect the decisions we make but the conclusions we reach about other people. "We don't have a stable moral compass.… What I've found in my research is that it's easier to pick up the unhealthy habits of others than to be swayed by their good behaviors."
Check your reference points to consider the motives—social comparisons and emotions—behind your decisions. "The way we define and understand ourselves is an inherently social process….Our decisions are biased by the comparisons we strategically choose in order to alter how we see ourselves." By becoming more attentive to frames, we can become less influenced by them.
Consider the source to determine if your judgment is warranted based on all the information available to you. Are you evaluating the right information? "We tend to "rely on irrelevant, but seemingly important, information when making judgments."
Investigate and question the frame to see its impact on our behavior or decision. A change in framing can cause us to accept or abandon our carefully thought out goals and plans. How we frame things dramatically affects our acceptance and commitment. In an interesting study the author and others conducted, they found that framing the orientation and training process in a way that encourages self-expression of personal identities and signature strengths produces beneficial effects for the employees and the organization—namely motivation and retention.
Make your standards shine by putting them first and discussing them more often. Too often we just need the right opportunity to come up with a reason to reinterpret our behavior.
* * *


Like us on
Instagram
and
Facebook
for additional leadership and personal development ideas.
* * *

Posted by Michael McKinney at 02:48 PM
Permalink | Comments (0) | This post is about Motivation , Problem Solving