The Right Fight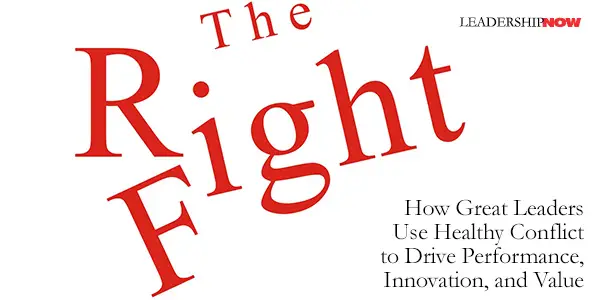 IF YOU believe that the single most important thing leaders have to get right is alignment, if you think that the leader's time is best spent promoting teamwork and making sure everyone is on the same page and playing nice, then you might want to take a look at Saj-Nicole Joni and Damon Beyer's book, The Right Fight.
The book is based on a counterintuitive premise: In an environment where alignment is the only goal, alignment robs us of necessary dissent, of the checks and balances that mitigate risk, and of the tensions that create innovation and sustainable value. In short, you need to systematically orchestrate the right fights but … you need to fight them right.
The Right Fight principle is based on the idea that you learn and grow by the right amount of friction and stress. "A certain amount of healthy struggle is good for organizations and for individuals. Indeed, people and organizations perform optimally when they are under the right kinds and amounts of stress." They add, "With alignment and properly managed tension, organizations hit a sweet spot and start realizing their potential."
Citing a study by Theresa Wellbourne of eePulse, the single greatest predictor of poor performance is when employees are happy or complacent and thus unmotivated to change. The second greatest predictor is when employees are overwhelmed. Both groups exhibit a low level of energy. They conclude that "Tension in the right measure creates the emotional energy people need to change." The trick for leaders is to avoid these extremes. "Knowing where and when to use tension is critical. Knowing how to work through the tension is equally important."
They lay out three principles that identify right fights and three more principles that clarify the rules of engagement. The first three Right Fight Principles will help you in identifying and eliminating destructive tensions:
Right Fight Principle #1: Make it Worth Fighting About. Make it Material. "A right fight has to create significant value, require integration of multiple perspectives, and change the way work gets done in an organization. In short, a material fight is worth the trouble."
Right Fight Principle #2: Focus in the Future, Not the Past. "Obsession with past performance, or intense interest in decisions made months or even years before, is a dead giveaway that your organization is stuck in a wrong fight."
Right Fight Principle #3: Pursue a Noble Purpose. "Right fights connect people with a sense of purpose that goes beyond their own self-interest, unleashing profound collective abilities to create in ways they didn't think possible."
The final Right Fight Principles guide you in fighting right fights right:
Right Fight Principle #4: Make it Sport, Not War. "Right fights, like sports, have to have rules. One of the key tasks for leadership in a right fight is to define the parameters so everyone involved understands how to participate and what it takes to win."
Right Fight Principle #5: Structure Formally but Work Informally. "You need to structure right fights through the 'formal organization,' but work out the tensions created by those fights through the 'informal organization.'"
Right Fight Principle #6: Turn Pain into Gain. "There is a fine line between productive tension and destructive distress, and no two people draw that line in exactly the same place. For right fights to be fought right, leaders need to make sure no one is put under unbearable pressure. Turning pain into gain requires leaders to relate to their team members as individuals and to figure out what creates synergy, stretches skills, and honors outcomes for each of them."
There are case studies to illustrate each of these principles in action. It's easy to see the negative side of tension: focusing on the past, stigmatizing the losers, fighting over turf. "But without tension, nothing moves." Tension creates an opportunity for leaders to help their organizations fight the right fight.
* * *


Follow us on
Instagram
and
Twitter
for additional leadership and personal development ideas.
* * *


Posted by Michael McKinney at 08:57 AM
Permalink | Comments (0) | This post is about Creativity & Innovation , General Business , Learning , Management , Problem Solving