Focus on the War, Not the Battle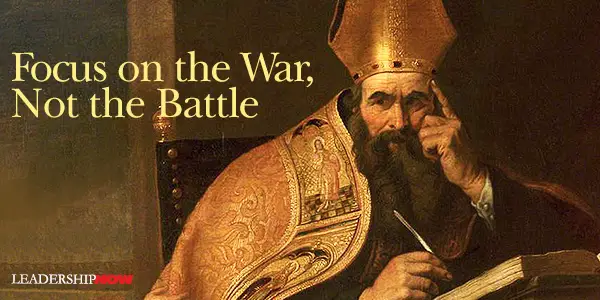 EARLY Christian philosopher, Augustine of Hippo (354-430), proposed that to drive out the bad—those habits or qualities we don't want—we need to focus on the good—those habit, qualities or strengths we do want. At home, this was always referred to as focus on the war, not the battle. The implication is that when we have a problem we want to change, we need to focus on the new habit we want to form and not the bad habit we want to replace. In relationships, we need to focus on the good that we want to develop and strengthen and not the bad we would like to drive out. Focus on the strengths and they will drive out or minimize the weaknesses.
There seems to be some support for this in current studies of neuroplasticity. Our brain physically changes—makes new connections—based on what we pay attention to; it moves in the direction of our most dominant thoughts. Jeffrey Schwartz and Sharon Begley write in The Mind and the Brain, "Physical changes in the brain depend for their creation on a mental state in the mind—the state called attention. Introspection, willed attention, subjective state—pick your favorite description of an internal mental state—can redraw the contours of the mind, and in so doing can rewire the circuits of the brain, for it's attention that makes neuroplasticity possible." We literally change our brain consistent with that which we send our time thinking about. Shouldn't we then be thinking about where we want to go and not the miles we have to go to get there?
In terms of leadership, David Rock writes in Quiet Leadership, "[W]e need to help people focus on solutions instead of problems. We need to give up our desire to find behaviors to fix and become fascinated with identifying and growing people's strengths." Focus on the war—the desired end—and not the battle—the obstacles we face in getting there.
* * *


Like us on
Instagram
and
Facebook
for additional leadership and personal development ideas.

Posted by Michael McKinney at 08:32 AM
Permalink | Comments (0) | This post is about Personal Development