The Right Fight
: How Great Leaders Use Healthy Conflict to Drive Performance, Innovation, and Value
Saj-nicole Joni and Damon Beyer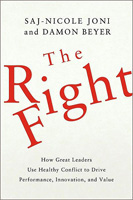 Format:
Hardcover, 256pp.
ISBN:
9780061717161
Publisher:
HarperCollins Publishers
Pub. Date:
February 2, 2010
Average Customer Review:

For Bulk Orders Call: 626-441-2024

Description and Reviews
From
The Publisher:
Organizational harmony and strategic alignment aren't enough to drive success.
Until now, management wisdom would have you believe that the single most important thing leaders have to get right is alignment. To accomplish anything, employees must agree about the mission, strategy, and goals of an organization. Aligned employees are happy employees, and happy employees are productive employees. Simple, right?
Well, in a word, no. Counter to conventional wisdom, the dirty little secret of leadership—what they don't tell you in business school—is that a leader's time is not always best spent trying to help his or her teams make nice and get along. In contrast, the authors' groundbreaking research shows that fostering productive dissent is essential for achieving peak efficiency—what Joni and Beyer call "right fights."
Right fights need to be well designed and subject to certain rules to be effective. Alignment cannot be ignored; without it, organizations can be plagued with bitter, energy-draining wrong fights. But a certain amount of healthy struggle is good for organizations. Right fights unleash the creative, productive potential of teams, organizations, and communities.
The Right Fight
turns management thinking on its head and shows why leaders—in the fast-moving, hyper-competitive marketplaces of the twenty-first century—need to foster alignment and orchestrate thoughtful controversy in their organizations to get the best results. Drawing from examples as diverse as Unilever, Microsoft, Coca-Cola, Dell, the Clinton administration, and the Katy Independent School System, here is your playbook for picking the right battles and fighting the right fights well.


Reader's Index
Send us your favorite quotes or passages from this book
.
• "The only way for great leaders to find and develop leaders for the future is to test them in right fights. It's in the crucible of productive tension that great leaders are created." Pg. 194
• "More than a few work-arounds and you have a profoundly dysfunctional system. Work-around always mask wrong fights, and energy gets wasted in the process." Pg. 39
• "Anywhere tension exists, the opportunity to make it work for you rather than against you exists, too." Pg. 198

About the Author
Saj-nicole Joni
is an internationally known business strategist and the founder and CEO of Cambridge International Group. Her work appears in the Harvard Business Review, Fast Company, and on Forbes.com, where she writes a regular column.
Damon Beyer
is a partner at Katzenbach Partners and a former consultant with McKinsey whose work has also been published in the Harvard Business Review.

Find Items On Similar Subjects

The Firefly Effect
: Build Teams That Capture Creativity and Catapult Results