Leading When Things Aren't Going Your Way
In
Bo's Lasting Lessons
, authors
Bo Schembechler
and John Bacon relate a story from Bo's early days coaching. He learned a lesson about leading when the heat is on from his boss from his boss and mentor
Ara Paraseghian
that he carried with him the rest of his life. Here's that excerpt:
The following season, 1956, I left Doyt [Perry]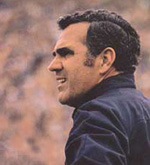 and Bowling Green—with his blessings—to become an assistant for Ara Parseghian at Northwestern University.
Ara was not a big ego guy, he was great with players, he was a wonderful motivator, and he understood the game so well he could come up with things no one else had thought of. He was probably the most imaginative coach I'd ever seen, always adapting his plays to his players instead of the other way around like most coaches do. Heck, we used to call his practice field "The Laboratory," because that's where he'd try every trick in the book on Mondays, testing this and experimenting with that, just to see what might work that Saturday.
Before Ara arrived, Northwestern hadn't had a winning season in five years, but in his first year Northwestern went 4-4-1, and everyone was encouraged. But in Ara's second season, 1957, everything went to hell. We lost nine games—every single game we played! For a coach, that's just about the most difficult situation you have to face.
We could keep our opponents down to one or two touchdowns, but we couldn't score for our lives. And I was working with the offense!
Losing creates all kinds of other problems too—poor morale, nagging injuries, lackluster effort. The players were spending more time in the PR office than in the weight room. It was just a mess. I never experienced anything like that in all my years of coaching—and thank God for that.
I learned an awful lot from Ara in my first year at Northwestern, but I learned a heckuva lot more from him that second season, when he lost 'em all. And
what I learned was how a real leader leads when things aren't going his way.
Ara treated the staff as though we were winning every game. He never gave the slightest inclination that we were the problem. He not once blamed any assistant or any player fro any loss we suffered that year. NOT ONCE.
"Stick with it, guys, and we'll get through this," he'd tell us. "We're going to be okay." We all kept busting our butts for Ara, working past midnight, doing everything we could to get that guy a victory.
I'm not saying there wasn't some bitching among the players. When you're losing every game, every player thinks he deserves more playing time. But I promise you this: There was a whole lot less bitching on that team than I've heard on teams that won half their games—and there was absolutely no, but no, bickering among the coaches.
And that wasn't even the most impressive thing Ara did that year.
Stu Holcomb was Northwestern's athletic director, and his son Chip was a backup quarterback on the varsity. In the middle of this losing streak, Stu kept cranking up the pressure for Ara to start his son. At one of our staff meetings, Ara laid the situation on the table. Then he asked us point-blank: "What do you think?" The thing is, there wasn't anybody on the staff pounding on the table to make a quarterback change just because we were losing. We knew there had to be a ton of pressure on Ara to put Stu's son in, but our quarterback wasn't the problem. And that's exactly what we told him when he asked us. He just nodded.
Another coach—maybe most coaches—would have caved in to their boss just to save their hides. But Ara held firm. He didn't change quarterbacks, or even consider doing it. And every one of us who walked out of the coaches room that day felt the same way I did:
Ara Parseghian is a stand-up guy. He's a leader. I want to work for this guy!
And that's why that losing season didn't break Ara's back: Because he's a
confident
guy, and he knew he could coach. His staff remained dedicated to him and his program the entire season.
You'd think my two years at Northwestern would have been a horrible experience, but it wasn't. It was a
great
experience, because Ara had put together a stellar staff—they're all still good friends of mine, especially Alex Agase—but mostly, it was because Ara was there.
The result? Put this down: Ara Parseghian lost every game that year, but the next year his team went 5-4—Northwestern's first winning season in eight years.
When Ara took the Notre Dame job five years later, in 1963, he left Evanston as one of only three coaches in the last
century
of Northwestern football to post a winning record. And of course, from there he won two national titles and Coach of the Year at Notre Dame. Don't tell me he didn't deserve it.
But that 0-9 year? He didn't get any rewards for that, but let me tell you: THAT was the most impressive year of his coaching career.
Posted by Michael McKinney at 11:02 AM
Permalink | Comments (0) | This post is about Books , Leadership