Simplicity: Focused and On Track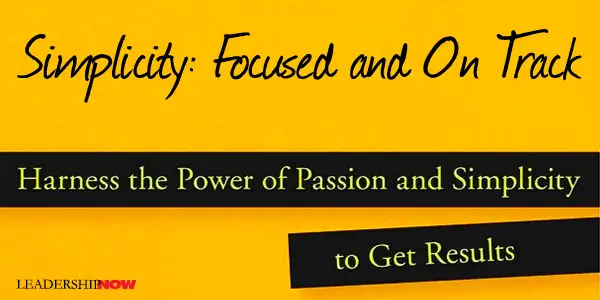 Simple Solutions
is directed toward getting things done. It's about being able to "boil things down to their essence" and thereby bring complex issues down to a simple problem statement. To do this you must learn what is important to all stakeholders. Simplified problems are ones that can be acted one through effective, focused communication. Authors, Tom Schmitt and Arnold Perl provide some practical steps to build this skill. They define a continuum of leadership as: clarity of thought leads to simplicity, which leads to focus and powerful communication—the essence of leadership. Here are a few of the ideas found in this book:
Focus on the Amazing Goal, Not the Incremental. The deadly enemy of innovation is incrementalism. By just trying to make problems better a little bit at a time you can lose sight of the possibility of making a quantum leap. A useful question to help you look for amazing goals is, "What would have to be true in order to/for…?" The answer to the question helps you to think differently and make breakthroughs.
Be Directionally Correct. "The fact is there will never be enough time or information to help you arrive at the perfect answer. The right answer can be one that is directionally correct. In other words, the solution may not be perfect, but it's in the ballpark. This paves the way for more action but at least you're already working with the customer and aren't stuck back at the starting gate, still refining the model in the search for the non-existent perfect solution."
Determination versus Distractions. Determination is the willingness and ability to overcome obstacles and to avoid distractions. "Determination requires continued focus and commitment to a project. It requires the business savvy to separate the core of an issue from ancillary matters and then to continue plugging away at the core." It is important to note though, "determination is an art. It requires walking a fine line between passionate focus and blind stubbornness. Use your judgment to determine if the goal needs to be simplified, changed, or even abandoned altogether. Don't confuse sheer stubbornness with determination.
* * *


Like us on
Instagram
and
Facebook
for additional leadership and personal development ideas.
* * *

Posted by Michael McKinney at 12:26 AM
Permalink | Comments (0) | This post is about Books , Leadership Development , Management