In Difference Lies the Potential to Contribute
WE tend to think that if we get the smartest people all together in one room, we will get the best solutions. In a very readable book, The Difference, Scott Page shows that in fact diversity in thinking and perspective produces more and better solutions and contributes to overall productivity. He maintains that "when confronted with a difficult task, be it solving a problem, predicting the future, or making a choice, we benefit by including diverse people." Value can be added just by virtue of its being different. How many disciplines have benefited from interdisciplinary approaches? Diversity doesn't necessarily mean black/white or men/women, but diversity in thinking and perspective. He notes that "cognitive diversity increases innovation. Preference diversity leads to squabbles." So we're looking for relevant diversity and informed intelligence.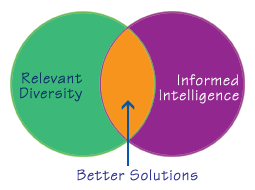 The trap we fall into is that we prefer to continue to work with and consult people who think like us—people with the same general background and types of experiences. The familiarity is more comfortable and seems right to us. In the end, we get the same way of looking at things and we bring the same kinds of tools to the table to tackle our problems. We miss important clues. If one of us gets stuck, then we all get stuck. "People who think alike get stuck." We also create barriers to innovation and radically new ideas.
A preference for working with people who bring the same formal perspectives to bear on a problem leads to segregation by function in firms and by discipline in the academy. In each case, the tendency to interact only with people like us creates the same micro-level dynamic. Each culture in a society, each identity group in a city, each department in a university, and each functional area of a firm ends up building walls around itself. As these walls become higher, the members of each group—be they Evangelicals, African Americans, chemists, or accountants—find themselves inside silos of their own creation.

He suggests that we should not only get more kinds of people involved in tackling the issues, we should also encourage our people to think differently by giving them time to pursue individual projects that interest them (varied experience) and by creating skunk works type groups within the organization. He observes, "as individuals, we can accomplish only so much. We're limited in our abilities. Our heads contain only so many neurons and axons. Collectively, we face no such constraint. We possess an incredible capacity to think differently. These differences can provide the seeds of innovation, progress, and understanding."
* * *


Like us on
Instagram
and
Facebook
for additional leadership and personal development ideas.
* * *

Posted by Michael McKinney at 08:56 AM
Permalink | Comments (0) | This post is about Books , Creativity & Innovation , Problem Solving , Thinking