It's the Manager: Moving from Boss to Coach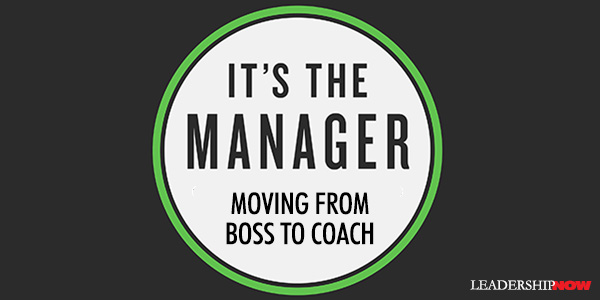 NOT SURPRISINGLY, a Gallup World Poll found that the great global dream is to have a good job with mission, purpose, and at a living wage. But the vast majority—85%—hate their jobs.
If you couple that fact with George Gallup's "single most profound, distinct and clarifying finding ever" that 70% of the variance in team engagement is determined solely by the manager, then the issue becomes the manager.
That being the case, the single key to maximizing human potential and organizational growth is to improve the quality of the manager. The most important person in your organization to bring teams together and lead them to great decisions is the manager.
Jim Clifton and Jim Harter of Gallup explain how to build a strengths-based culture that attracts the best employees and maximizes their potential in It's the Manager. They cover five major topic areas—Strategy, Culture, Employment Brand, Boss to Coach, and Future of Work—an offer 52 discoveries from Gallup's largest study of the future of work. The most important sections for me are Employment Brand and Boss to Coach.
The practice of management has been stuck in time for more than 30 years, despite the world and workplace going through extraordinary historical change. "The problem is, while the science of management has advanced significantly in the past three decades, the practice of management hasn't."
In the new working environment, one of the biggest challenges is for managers to go from boss to coach.
The old boss-to-employee, command-and-control leadership environment has "worked" when it comes to building process-efficiency systems, engineering large buildings, and creating infrastructure. But the top-down leadership techniques of the past have not adapted to a workplace that now demands coaching and collaboration to thrive.
However, I would argue that top-down and coaching and collaboration are not necessarily mutually exclusive. That said, coaching requires three things: establish expectations, continually coach, and create accountability. Their research has found that "employees whose manager involved them in setting goals were nearly four times more likely to be engaged than other employees" and those who receive "daily feedback from their manager are three timed more likely to be engaged than those who receive feedback once a year or less."
Gallup analytics finds that most current team leaders do not have the natural tendencies for managing people. We often promote people for the wrong reasons like success in a prior non-management role and tenure.
Organizations still think largely in terms of promoting up the corporate ladder when other options exist like changing teams, projects, or even managers.
Unfortunately, many organizations still offer only one way "up": Become a manager, even if your strengths aren't in management. Some people who aren't really cut out to be managers may do an OK job, but they never feel quite right managing. And this affects their wellbeing—and the wellbeing of those they manage.
Gallup research fronds that great managers have these five traits: Motivation (inspiring teams to get exceptional work done), Workstyle (setting goals and arranging resources for the team to excel), Initiation (influencing others to act; pushing through adversity and resistance), Collaboration (building committed teams with deep roots), and Thought Process (taking an analytical approach to strategy and decision-making).
* * *
There is a code to take the CliftonStrengths assessment and an appendix section that provides guidance for leading with each of the 34 strengths.
(As a side note, I found this statistic enlightening: "Your employees are grumbling, as 50% of them are making less than they were 35 years ago. In real terms—overall—your employees have not received a raise in more than 35 years. Their expenses of housing, healthcare, and education are exploding while paycheck sizes are frozen or declining.")
* * *


Like us on
Instagram
and
Facebook
for additional leadership and personal development ideas.
* * *


Posted by Michael McKinney at 10:18 AM
Permalink | Comments (0) | This post is about Leadership Development