Quiet Leadership
: Six Steps to Transforming Performance at Work
David Rock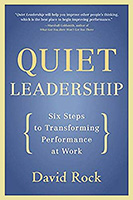 Format:
Paperback, 288pp.
ISBN:
9780060835910
Publisher:
Harper Business
Pub. Date:
October 16, 2007
Average Customer Review:


For Bulk Orders Call: 626-441-2024

Description and Reviews
From
The Publisher:
You start a conversation with someone you manage, a conversation about a project that could be going better. You want to improve their performance and think you know what they should do. You estimate the conversation should only take a few minutes, yet somehow 45 minutes later you're still going around in circles. Sound familiar?
Unfortunately, improving human performance involves one of the hardest challenges in the known universe: changing the way people think. In constant demand as a coach, speaker, and consultant to companies around the world, David Rock has proven the secret to leading people (and living and working with them) is found in the space between our ears. "If people are being paid to think," he writes, "isn't it time the business world found out what the thing doing the work, the brain, is all about?"
Supported by the latest groundbreaking research, Quiet Leadership provides, for the first time, a brain-based approach that will help busy leaders, executives, and managers improve their own and their colleagues' performance.
Quiet Leadership
is for the CEO who wants to be more effective at inspiring his or her leadership team, but has just a few minutes each week to speak to them. It's for the executive who'd like to get a manager to plan more effectively, but can't seem to work out how. It's for the manager who wants to inspire the sales team, but isn't sure how to do it. It's for the human resources professional who is ready to take on changing the culture of a whole organization. It's for the parent or caregiver who wants to reach new levels of communication and understanding with their family members.
Quiet leaders are masters at bringing out the best performance in others. They improve the thinking of people around them—literally improving the way their brains process information—without telling anyone what to do. Given how many people in today's companies are being paid to think and analyze, improving our thinking is one of the fastest ways to improve performance.
Quiet Leadership
offers a practical, six-step guide to making permanent workplace performance change by unleashing higher productivity, new levels of morale, and greater job satisfaction. Above all,
Quiet Leadership
will give you the clarity and strength that comes from mastering and using powerful insights that teach you to perform and succeed, at the highest level.

Reviews
Quiet Leadership
will help you improve other people's thinking, which is the best place to begin improving performance.
—Marshall Goldsmith, founder of Marshall Goldsmith Partners
Rock has broken the code on how to leverage our most basic human function-thinking! Both practical and profound - a must- read for anyone who wants to unleash the potential of their team.
—Michael W. Morrison, Dean, University of Toyota
Success depends on the quality of thinking. In the past, if we wanted to change our habitual forms of thinking, we operated in the dark - because nobody had taken the cutting-edge insights of neuroscientists and rephrased them in ordinary language or a business context. Now David Rock has done exactly that, and done it well.
—Art Kleiner, Editor-in-Chief, Strategy+Business magazine
Essential reading for any leader who has ever wondered, Why don't people do what I tell them to do?
—Dianna Anderson, MCC VP Leadership Coaching, Metrix Global, LLC
Thank you, David Rock! At last, a comprehensive set of conversational tools that support leaders in having powerful, results-oriented conversations with their employees around change, performance, and career development
—Colette Dempster, Coaching and Mentoring Program Manager, EDS Global Learning and Development Program
In the first major book to explore what business leaders ought to know about the brain, David Rock creatively marshals an abundance of new research to coherently explain how it advances the use of mind-based brain change as the dynamic element of better leadership training. The key to the future of leadership development lies in these pages.
—Jeffrey Schwartz, MD, Author of The Mind & The Brain, and Brain Lock
Quiet Leadership is an inspiring, clear, step-by-step approach to changing people, rather than processes.
—Elisa Mallis, Human Performance Consultant, Accenture, London

About the Author
David Rock
is a leadership coach, teacher, and public speaker who advises corporations around the world. He is the CEO of Results Coaching Systems, a leading global consulting and coaching organization, and an adjunct lecturer at the Center for Management at New York University (SCPS). Rock's Six Steps to Transforming Performance at Work were developed over ten years, through designing and delivering workshops to more than 5,000 professionals across the United States, the United Kingdom, South Africa, Singapore, Hong Kong, Australia, and New Zealand.

Find Items On Similar Subjects

Quiet Leadership
: Six Steps to Transforming Performance at Work • Paperback

Your Brain at Work
: Strategies for Overcoming Distraction, Regaining Focus, and Working Smarter All Day Long

Learned Optimism
: How to Change Your Mind & Your Life

Leading Quietly