The Nature of Leadership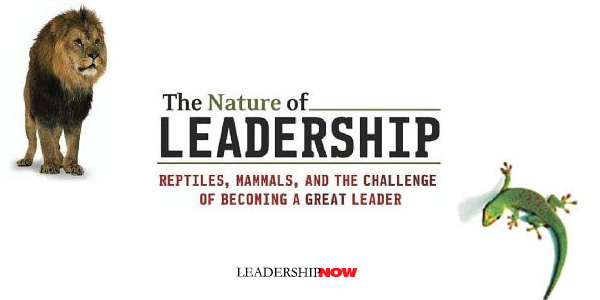 A SURPRISE in this month's crop of books is The Nature of Leadership by B. Joseph White. Essentially, it is a blueprint for leadership development. He has created a leadership pyramid founded on basics such as a desire to be in charge, and the corresponding ability, strength, and character that all leaders—especially the great ones—must possess.

From there he divides leadership characteristics between analytical reptilian leadership characteristics and those of the nurturing, engaged mammal. While we generally have a tendency to lean one way or the other, we must develop a capacity to deal effectively with both the reptilian economic and performance issues and the mammalian soft or people issues.
White cautions, "I make no judgment about the inherent value of Reptiles and Mammals in the workplace. Both are vital and most people are, of course a complex mix of the two. We need task-oriented, no-nonsense Reptiles to ensure the work gets done and done well. We need people-oriented, nurturing Mammals to maintain the human community through which work gets done." He adds, "I believe organizations falter, fail, or don't reach their potential both because of leadership that is inadequately Reptilian and because of leadership that is inadequately Mammalian."

Finally, all these skills and qualities will coalesce into something bigger than the sum of their parts, an intangible but very real "sparkle factor" that separates the great leaders from the merely good.
You can read Chapter 1 online: Become a Leader, a Better Leader, a Great Leader
* * *


Like us on
Instagram
and
Facebook
for additional leadership and personal development ideas.
* * *

Posted by Michael McKinney at 05:51 AM
Permalink | Comments (0) | This post is about Books , Leadership Development , Personal Development