Why Teaching and Learning Must Be Two-Way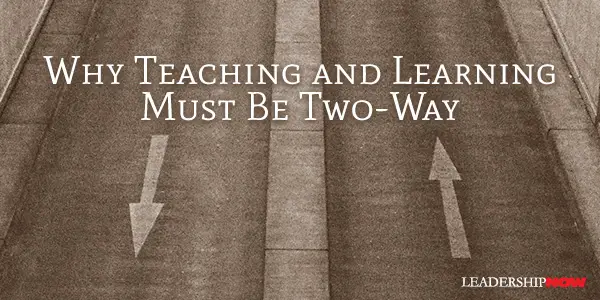 ADDING value and sustaining growth is accomplished by developing others to lead at every level. Simply put, Noel Tichy writes in The Cycle of Leadership, "The company that fields the better team with the smarter people and has them working most often on the things that create the most value will win out over its competitors."
The way this is done is through an interactive teaching/learning process, not a lecture. Great teaching is a two-way street—both become smarter through interaction with each other.
It isn't about alternating roles. You teach me something, and I'll teach you something. Rather, it is a process of mutual exploration and exchange during which the "teacher" and the "learner" become smarter.
Interactive teaching/learning is a critical skill, and it springs from a curious mind. It comes across as freshness and openness on the part of the leader. Executive coach Art Petty leverages this idea in his workshops. He wrote, "Every individual comes to a program with a unique perspective and experiences, and together, we look for common themes and threads we can mine to help all of us." And Art often shares those insights on his blog.
One-way teaching is a natural way of thinking about leadership development. But it limits us as we share only our perspective and often miss the new dynamics that the current reality places on the organization. The hierarchical teacher foregoes the opportunity to grow and learn. Ironically, the more we learn, the less we think we need to know. We become knowers and not learners. But the more we learn, the more we should see the need to explore more and learn more.
Leadership is learning at all levels, or it is not leading. When teaching and learning are two-way, we all learn.
* * *


Follow us on
Instagram
and
Twitter
for additional leadership and personal development ideas.

Posted by Michael McKinney at 08:57 AM
Permalink | Comments (0) | This post is about Learning