Leading Thoughts for July 13, 2023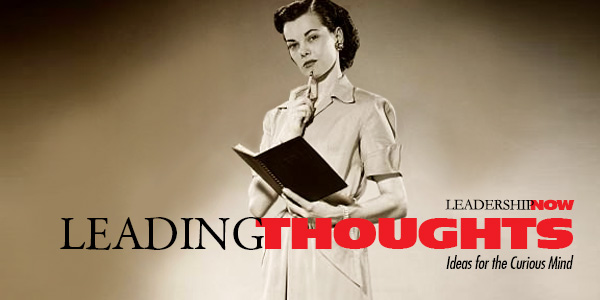 IDEAS shared have the power to expand perspectives, change thinking, and move lives. Here are two ideas for the curious mind to engage with:
I.
John Mattone on the importance of critical thinking:
"Much of your natural thinking as a leader, when left unchecked, is biased, distorted, partial, uninformed, or downright prejudiced. Your effectiveness as a leader, however, depends precisely on the quality of your thoughts. Critical thinking is that mode of thinking, about any given subject, in which you, the thinker, improve the quality of your thinking by skillfully taking charge of its very structures and imposing intellectual standards upon them. Effective critical thinking, however, involves consideration of the full range of possibilities to a problem, including emotional, cognitive, intellectual, and psychological factors."
Source: Intelligent Leadership: What You Need to Know to Unlock Your Full Potential
II.
Tiffani Bova on the need to focus on input metrics to get at the source of problems:
"When businesses realize they are falling short in delivering great employee and customer experiences, they tend to make the same mistake: they set out to fix the problems without really knowing why they are coming up in the first place. Without data, companies don't have the ability to determine causes. Unfortunately, that doesn't stop many of them from moving forward with important strategic decisions. By focusing on symptoms before diagnosing causes, they overlook the actual problems that, inevitably, continue to cause trouble in measurable or, worse, hidden ways."
Source: The Experience Mindset: Changing the Way You Think About Growth
* * *
Look for these ideas every Thursday on the Leading Blog. Find more ideas on the LeadingThoughts index.
* * *


Like us on
Instagram
and
Facebook
for additional leadership and personal development ideas.

Posted by Michael McKinney at 07:57 AM
Permalink | Comments (0) | This post is about Leading Thoughts