Leading Thoughts for May 19, 2022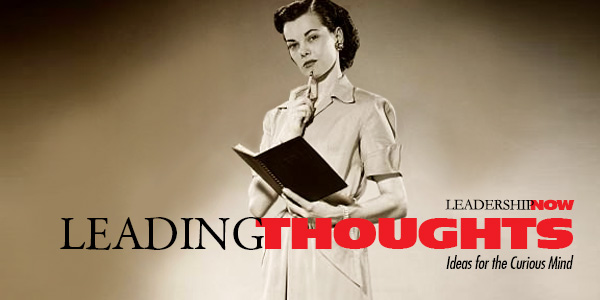 IDEAS shared have the power to expand perspectives, change thinking, and move lives. Here are two ideas for the curious mind to engage with:
I.
London Business School professors Rob Goffee and Gareth Jones on conforming yet remaining authentic:
"Leaders must conform enough if they are to make the connections necessary to deliver change. Leaders who succeed in changing organizations challenge the norms—but rarely all of them, all at once. They do not seek out instant head-on confrontation without understanding the organizational context. To change an organization, the leader must first gain at least minimal acceptance as a member."
Source: Why Should Anyone Be Led by You? What It Takes to Be an Authentic Leader
II.
Harvard Professor Joseph Badaracco on quiet leadership:
"The most effective leaders are rarely public heroes. These men and women aren't high-profile champions of causes, and don't want to be. They don't spearhead ethical crusades. They move patiently, carefully, and incrementally. They do what is right—for their organizations, for the people around them, and for themselves—inconspicuously and without casualties."
Source: Leading Quietly: An Unorthodox Guide to Doing the Right Thing
* * *
Look for these ideas every Thursday on the Leading Blog. Find more ideas on the LeadingThoughts index.
* * *


Like us on
Instagram
and
Facebook
for additional leadership and personal development ideas.

Posted by Michael McKinney at 06:17 AM
Permalink | Comments (0) | This post is about Leading Thoughts